Thank you for all your love, care and support throughout my pregnancy period.
Really apppreciate your continuous assistance, guidance and counselling. Means a lot to us. With you, I always felt I was in safe hands! And special thanks for the motivation that you have given me to stay strong.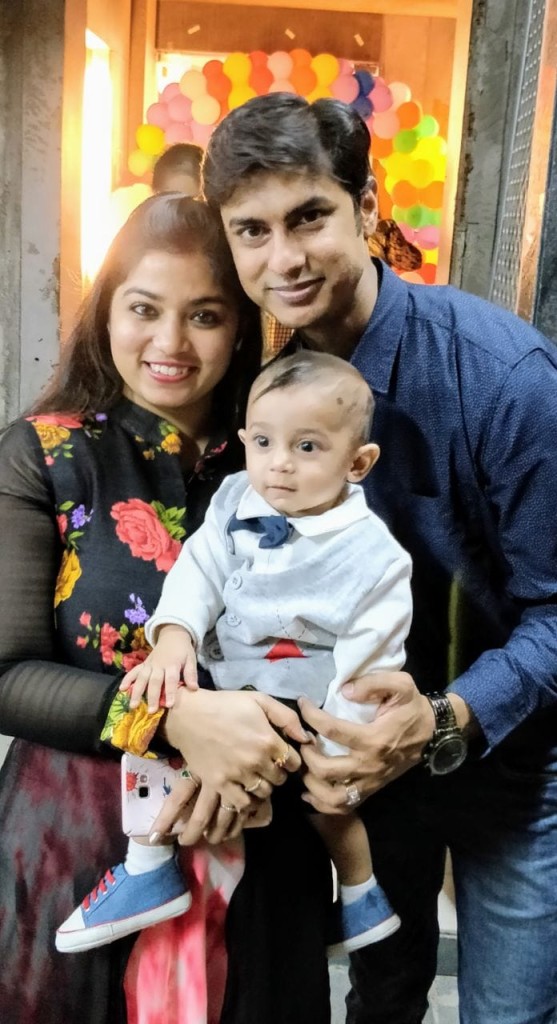 Akriti, Kapil and Ayaansh khandelwal
"DR. RANJANA DHANU" hearing this name ever after since I have met her; being in that positive approach towards life.
Dr. RANJANA Dhanu is the most compassionate and carrying doctor. I Have ever met I too being a doctor (dentist) by profession; will need ages to be living here. Her dedication
and devotion are worth and every doctor should try to at least match to her. For me, she is my guide, my mentor who has given me the right direction to maintain good health and always be happy in whatever I do.
I love you Dr. Ranjana madam from the bottom of my heart and I know you will always be there for me whenever I will need you. Love you so much !!
I Wish you all the best and success in life."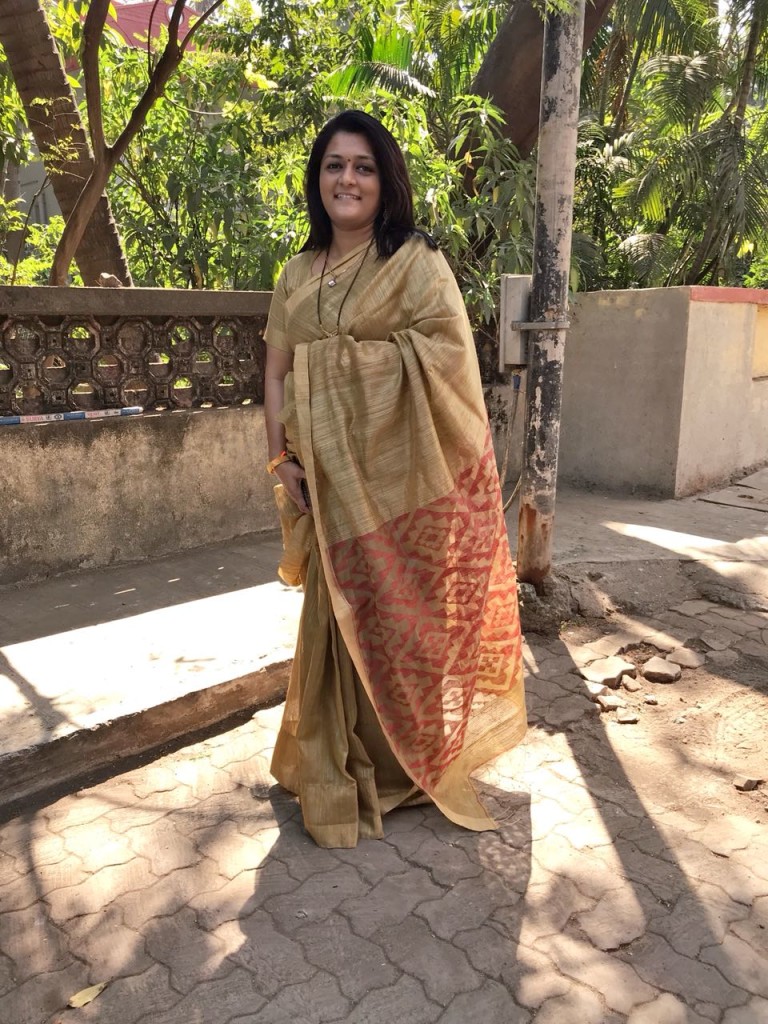 Dr. Archana Sanjay Bhalerao
"Dr. Ranjana Dhanu is the most caring doctor I have ever met. Her devotion, dedication and expertise to her field of work is unmatched by any other. She is one doctor that I trust blindly and she is as good as family to me. The love and care that she gives her patients should be used as an example by other doctors in this field."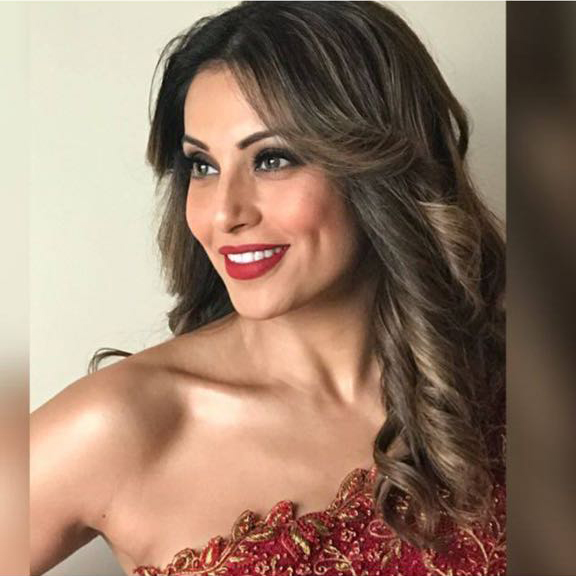 Bipasha Basu
"Dr Ranjana, a true epitome of COMPASSION!!! She is gem of a person. I haven't come across any doctor so full of empathy and love.
My visit to the gynac was long due. However, I wasn't happy with the doctor that I was consulting at that point. So, I happen to look for one on web. And there I find her! I read wonderful reviews about Dr. Ranjana and decided to visit. On my first visit itself, I had this sense of satisfaction and immense faith. She diagnosed the underlying medical conditions and assured to solve all my problems. From that moment, I surrendered myself completely to her.
She is the best doctor I have met so far! She is approachable at any given time. Thank you very much Doctor for everything! I wish you best today and always!
"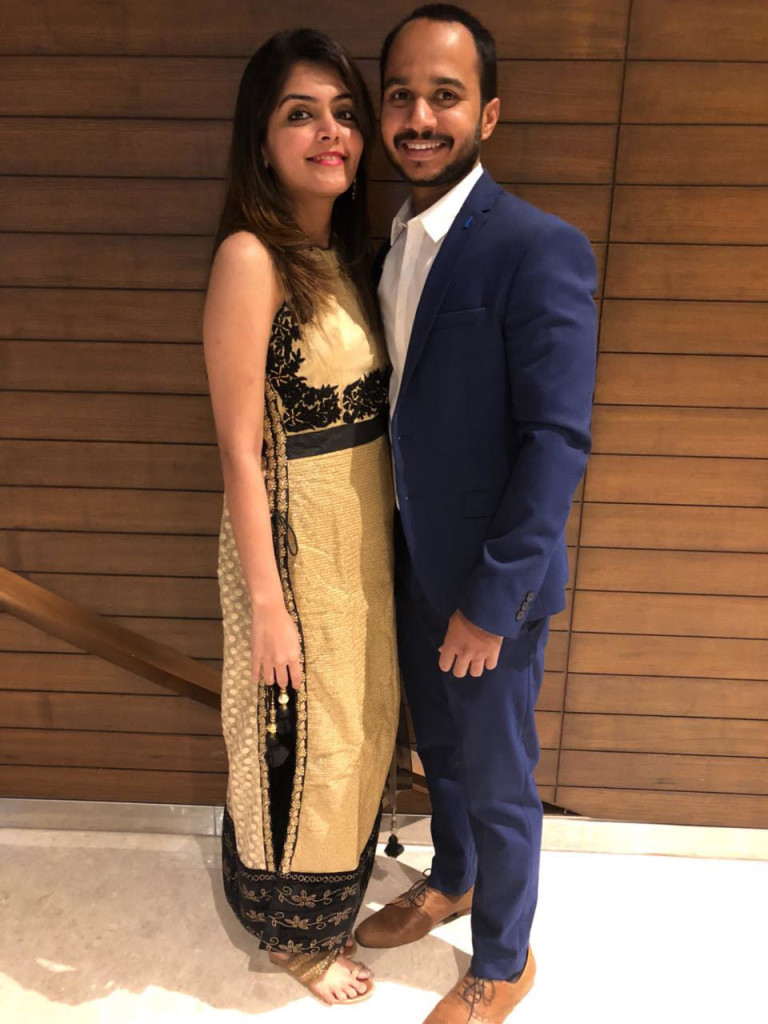 Charu Amle
"Dr Dhanu guided us through the entire pregnancy and delivery of our child. Of course, she is extremely knowledgeable and clear, which helped us through the ups and downs that are a part of most pregnancies. But the best part about her was that she was always approachable; ever ready to meet or pick up the phone to answer even the most minor of queries. We will always be grateful to her."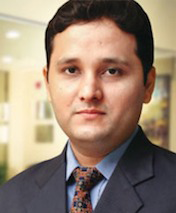 Amish Tripathy
"It was on 21st of December 2016 when I visited Dr Dhanu for the first time along with my daughter. Perhaps due to lack of exercise and *irregular* food habits my daughter was overweight and had PCOD. Dr. Dhanu as a medical professional not only provided solution to her problem but also advised her in *a* persuasive manner to change her life style *encouraging* better health life long. I found Dr Dhanu very impressive and professional in her approach having human touch. She is really *a* perfect combination of beauty and brain. This prompted me also to consult her for my prolapse bladder problem. After a minor (cystosele) surgery and post operative care and advice I am absolutely fit and *I feel* younger. I wish Dr Dhanu good luck and best of time ahead."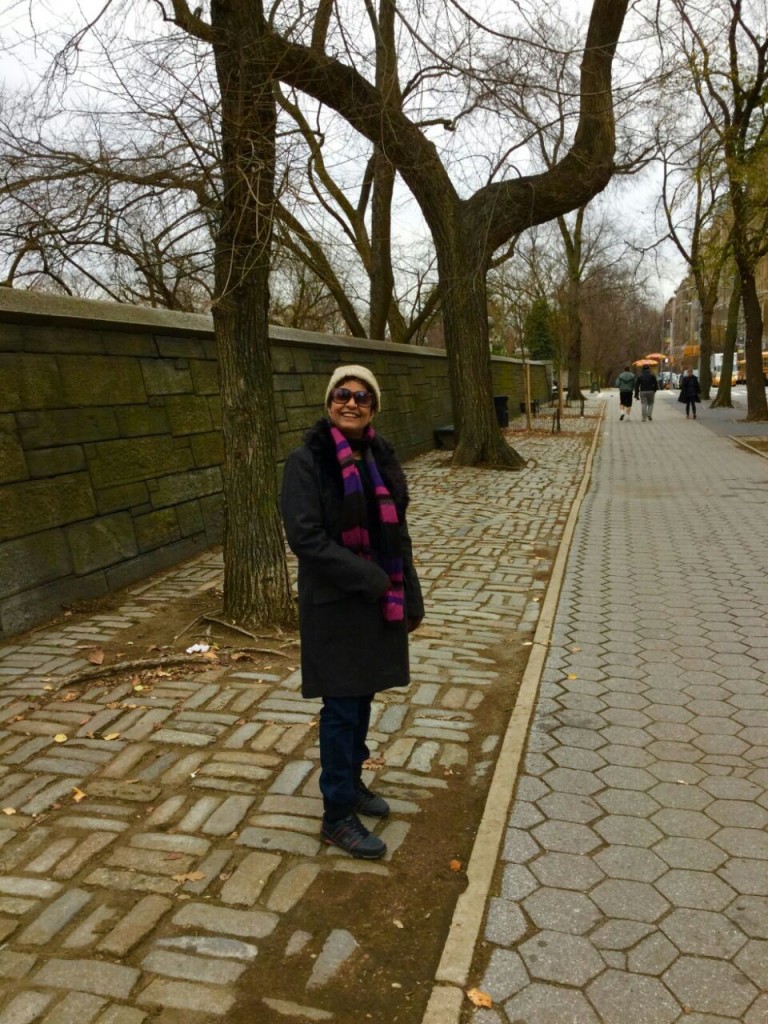 Sarita Jha
"I know Dr. Dhanu since 10 years now. My experience has been most amazing and reassuring every time I needed to see her. She is a great doctor no doubt, but her quality of personal supervision no matter how small your issue is, is most satisfying and gives one an immense sense of security and comfort. And of course, her effort to look her best and smile at all times is icing on cake.
I wish her the best always"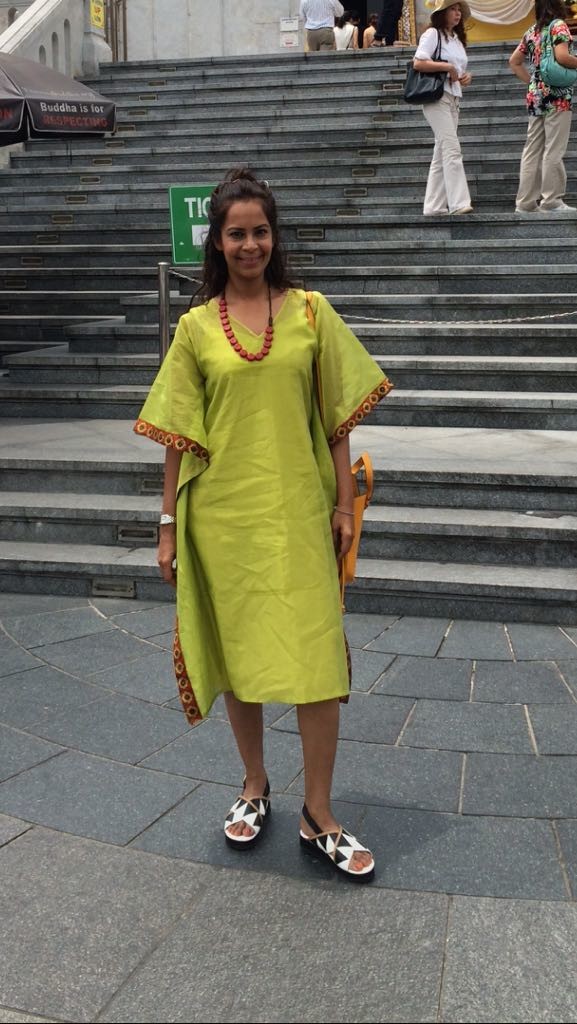 Tasneem Tabawal
"Dr. Ranjana Dhanu the most kind hearted person I have ever met in my life.. I love her so much! She's been treating my mom since 2004, it's been so long.. me & my sibling were kids… Since then she's been looking after us like our guardian! She has supported us throughout our life & am sure she will still be with us in future too.
People say "Dr are life saviors" I say Ranjana aunty dint just save my mother's life, she taught my mom how to lead life, moreover she taught her how to walk alone with 2 kids in hand! we love you ranjana aunty. Love u from the core of our hearts. Thank you so much for every thing aunty. can't thank you enough!"
"I have PCOD since the past 7-8 years. I consulted various doctors, but every time the treatment would become stagnant after sometime. My search finally ended with Dr Dhanu, who's treating me for PCOD since 2.5 years now. She's not just a great doctor but one of the sweetest people I've come across. You always feel a strong positive vibe as soon as you enter her cabin. The trust required between your Gynac and you is huge, and as cliche as it may sound, I truly believe that my health and my future (kids) are in very secure hands.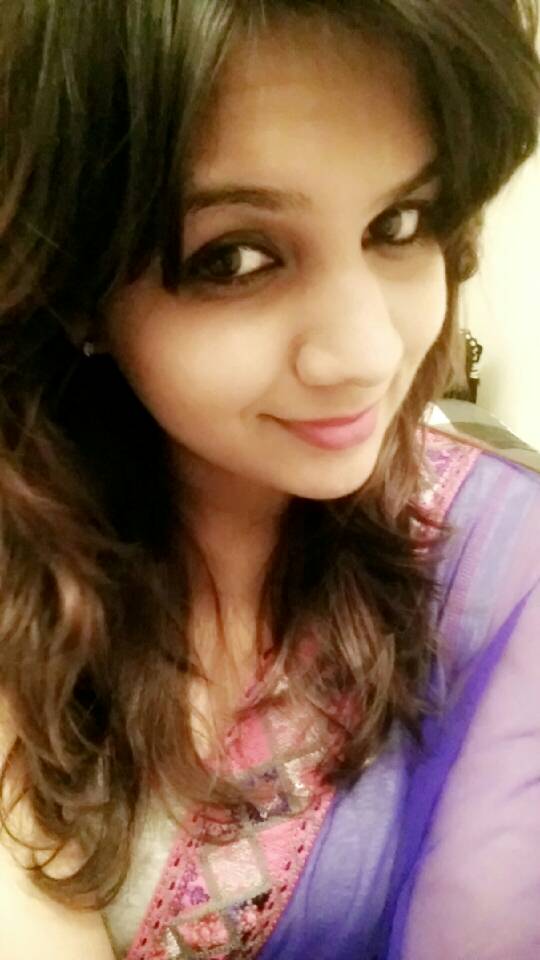 Ruchika Arora
"During my 8th month of pregnancy, my gynac left me to go on a short trip( FYI 1 whole month)..I was so lost.. also thoughts abt who wud take up my case since I was almost nearing my my 9th month.. but my prayers were answered soon n my worries were put to rest by Dr. Ranjana, my guardian angel. Not only me but my whole family swears by Dr. Ranjana.. She has guided me throughout my preganancy and post preganancy too.. Dr. Ranjana just knew how I felt every time I met her by just reading my face.. nevertheless it is a doctors job to attend to u during pregnancy but being there and guiding u post pregnancy is very vital for a mother..when I see Dr.Ranjana I know I am in safe hands and I can talk to her about anything with ease jus as you talk to your closest friends.. Dr. Ranjana is easily accessible and is very prompt in taking decisions..these qualities are rare in this day and age.. lucky to have u as my doc and my Moms.. thank u for being there for me, my Mom and my whole family!!"
"All the very best wishes from all of us.. :)"

Seema Karkera
"Dr Ranjana Dhanu will always hold a special place in our hearts. I have always wanted to be a mother and for years it seemed like a distant dream. Dr Dhanu made that dream come true.
We met her for the first time on a Sunday when all other docs were on downtime. From that day on, she has never been more than a call or text away. She is always the person I reach out to when I am distressed for both medical advice and a shoulder to cry on. Her suggestions are practical and she is both firm and reassuring.
For everything she has done, we will forever remain grateful."
Aparna Himan
– Citibank NA
Deepak Himan
– Tata Strategic Management Group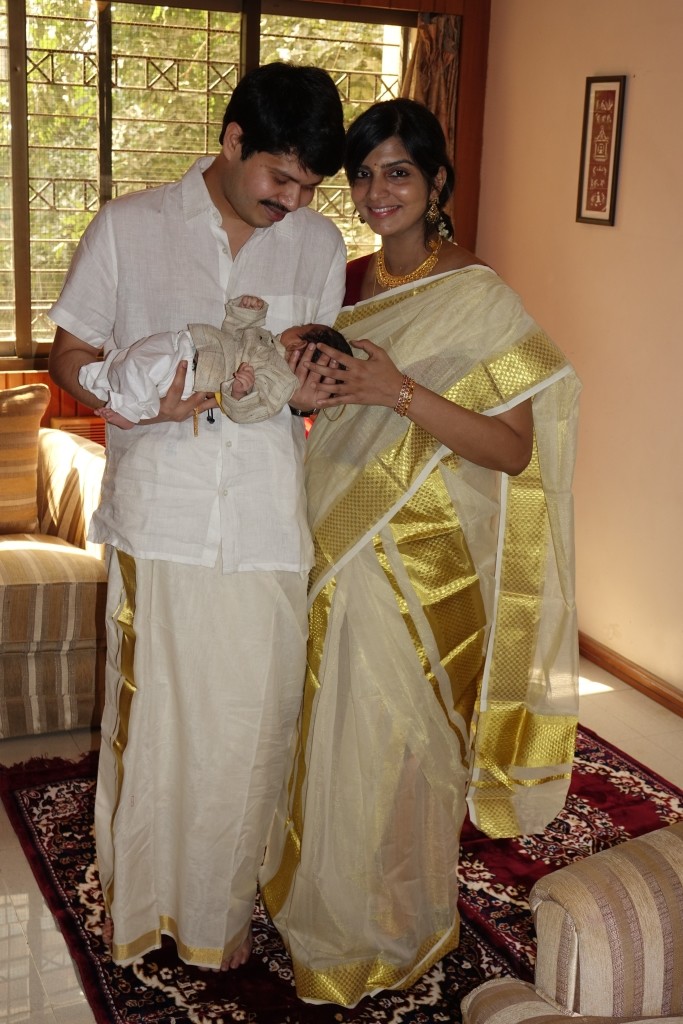 "The journey of pregnancy for me was full of douught and fear, but since I was in the hands of Dr. Ranjana she has supervised me an guided me as her younger sister. She was very courteous and patient to answering all my questions about pregnancy and we'll as post pregnancy. I was very lucky to have Dr. Ranjana with me throughout this journey."
"Thanks Dr. Ranjana and wish you good luck ahead."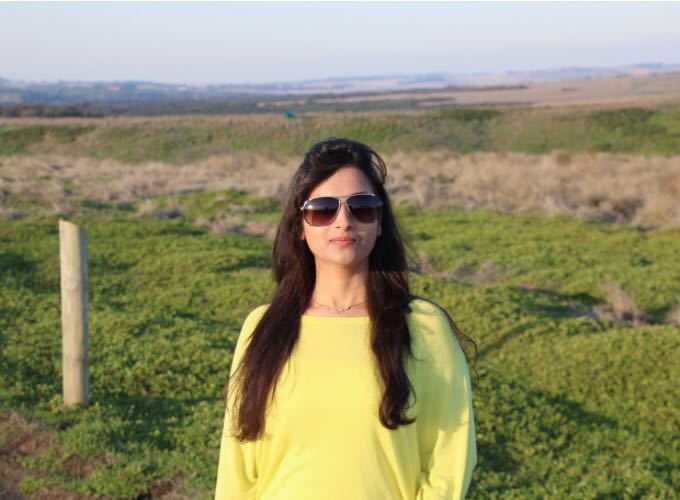 Varsha Konduskar
"Dearest Dr Ranjhana Maam (My Angel In Disguise) "
"Many of your patients have recommended you as a good doctor. But I am going one step further to also recommend you as a v great human being."
"Writing a note of thanks for you doctor ,for yr unconditional care, concern, personal attention and professional services is not gonna be enough, as u have played a vital role in my recovery. You work night and day to perform life saving acts which are nothing short of miracles. I m penning down just a short letter & a few sweet quotes which pour from my heart to show appreciation for your thankless efforts which will go a long way. Your inspirational words, yr unshakable confidence on studying my case which was like a tornedo to other top ranked reputed Gynaecologist's + Surgeons in Mumbai. None of them had given me th assurity tht a Laporoscopic Hysterectomy cud b performed on me since I was bearing A V HUGE UTERUS with multiple myomas(fibroids) and was also too scared dealing with malignancy symptoms."
"I proudly say it was ONLY YOU, I FOUND AS GOD'S SENT ANGEL, WHO JUST TOOK MY CASE UP & WERE SOOO CONFIDENT THT I CUD ESCAPE AN OPEN SURGERY!"
"Phew !!!! Still get tremors on how cud u actually perform the laporasocopic hysterectomy on me."
"The very thought of hospitalization was scary and traumatizing. But caring doctors like you make it friendly and pleasing. Thanks for your effective analysis and diagnosis. Else, I would never have been able to continue living a life of bliss."
"FRIENDS WHOSOEVER IS READING THIS TESTIMONIAL & ARE STILL IN 2 MINDS + ARE SCARED ,THEN I CAN ONLY SAY VISIT DR RANJHANA & GET YRSELVES CURED.
Medicines can cure, but a good doctor's inspirational words can give the strength to fight from within.
Thnx for doing just that Sweet Doc "
"Any doctor can prescribe, but only a few good ones can really heal. You, are the latter.I was an ordinary patient of ordinary means but you & yr team took care of me as if I was the most important person on earth.
More than a good doctor, I value the fact that you were a good listener. More than being just professionals, I value the fact that your staff's attitude was exceptional.
Thanks for teaching me the difference between Fact and Faith: Fact is when any ordinary doctor diagnoses illness in a report. Faith is when good doctors like you give their patients the strength to recover."
"Many gud doctors give their best, pre surgery and during the surgery, but fail to b there round the clock post surgery…..it's been almost 20+ days for mine & u still are there for me as if i was operated yesterday…Yr immediate response via SMS, or telephonic convo to all my queries just gives me unfailing strength & courage to take al minor aches + pains.
Real doctors spend time to look beyond the medical reports & understand the suffering + pain that patients are going through.
You have been much more to me than just a doctor.You have been my therapist, supporter, friend, well wisher and angel in disguise. "
"Surgeons like you are not just doctors, but real life-savers. I may not have talked to God in my prayers, but in your services I have seen some of His favors. Other doctors simply treat their patients with medicines but forget to do the most important thing which you do – help them to move on with their lives with motivating words and inspirational thoughts.
If every doctor strives to be as caring and generous as you, the world would be filled with smiles and laughter instead of pain and sorrow. Your smile is the best medicine you give to your patients."
"Nevertheless I hv stopped liking apples now
An apple a day keeps a doctor away. But who wants to keep good doctors like you at bay?"
"GOD BLESS YOU DOC "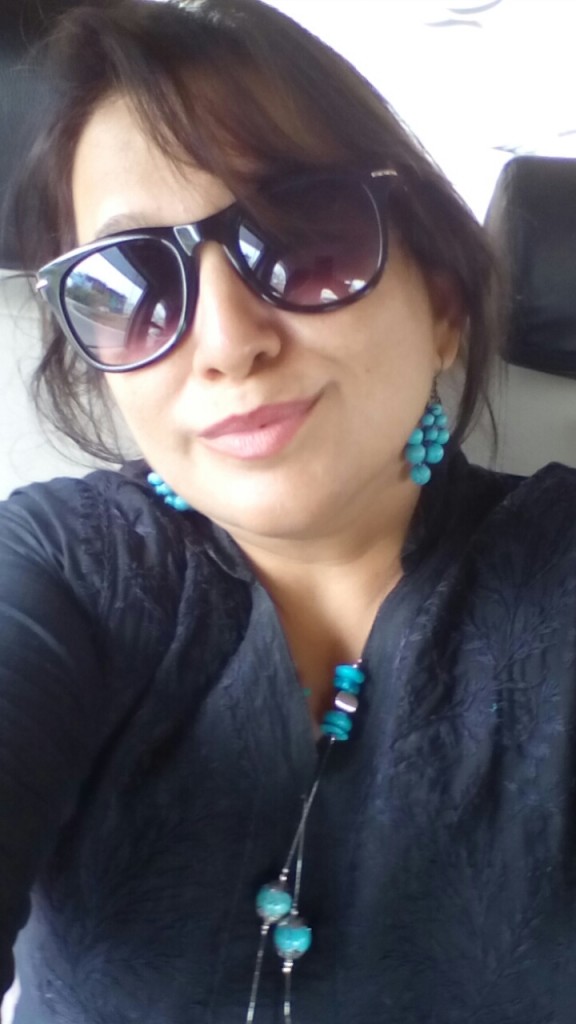 Tasneem
"When I got admission for DNB in 2014 at Lilavati Hospital, I met Dr. Ranjana Dhanu madam & Dr. Vilas Dhanu sir. From first day, I was overwhelmed with their warm, compassionate and elegant personalities. They have excellent diagnostic and surgical skills. Dr. Ranjana madam is one of the best teachers who not only taught us surgical skills, bedside manners, empathetic patient management but also how to be a good person, work as a team and to have positive approach towards life. With proficient academic knowledge, she always encouraged us in our careers and enthusiastically guided us. She always used to set examples before us through her discipline, dedication, sincerity and hard work. She is always approachable whenever we have any difficulty whether it is academic, personal or any kind. She is loved by her patients, staff and students. She always had been there as mentor and more than that a mother for us especially a small town student like me. "
"I have known Dr Ranjana Dhanu madam for the past five years since the good old days of Lilavati Hospital and Research Center when I was post graduate student."
"She has been the source of inspiration since then. She is a great teacher, sharing her knowledge and vast experience in our field. She always took an extra effort to teach me as well as other fellow students basics of laparscopy and the OBGY subject. It's always positive atmosphere around her."
"She has got excellent bedside manners and patient care. She explains very well to her patients about disease, diagnosis and the management with diagrams and technology (ipad)."
"I personally adore her for balancing her professional and family life very well.
Thank you ma'am for the support, encouragement and confidence that u had given me during the difficult phase of life. I wish u all the best.
Love :)"
"It has been a great pleasure to be associated with Dr Ranjana V. Dhanu . The Galaxy care centre at Poona has been inviting her as faculty for the annual Gros conferences held in Poona for the past 4 years. Ranjana has always been a very active participant at all the national and international meets. She is a well recognized surgeon in the minimal access surgeon's fraternity. She bears exceptional oratory skills and takes keen interest as teaching faculty as well. She has to her credit the participation as faculty nationally and internationally at several conferences! A very pleasant and cordial person that she is, I wish her the very best of luck in all her academic endeavours in the future."

Shailesh Puntambekar
"This is to certify that Dr Ranjana Dhanu is a dear friend, an excellent gynecologist and a wonderful human being.
She was a faculty for SURGE conference in Pune in February 2015 and her presence definitely value to the event.
I wish her all the best for her future endeavours."

Dr Sunita Tandulwadkar
This is to certify that Dr Mrs. Ranjana Dhanu has been actively involved in the academic activities of the IVF Lite Foundation since its inception. She has been one of our prominent National Faculties addressing the Gynecologic Endoscopy segment in our meetings. She has volunteered her time and skills to disseminate knowledge in different parts of India through the Foundation meetings. Her lectures can be found at the IVF Lite Foundation You Tube Channel as well as the WOOSP Facebook page at www.facebook.com/woospindia

She is an outstanding busy Physician who has taken time off her private practice to educate fellow Gynecologists from India & abroad. We wish her the very best in all her projects and activities.

Dr Gautam N Allahbadia
My last 15 years of professional and personal interaction with Dr. Dhanu has been a journey … I have admired her as a senior , very compassionate doctor , professional drive to be on top of the medical advances in her specialty. Also the care that she took during my pregnancy … Felt most comfortable and reassured, you know how as a doctor you are aware of everything and so make demanding patients. She was the one I chose to trust then n do always


Rashmi Shetty
"I have known Dr Ranjana Dhanu for the last 5 years, a dear colleague who has been a source of inspiration for me. She is an excellent minimally invasive gynecological surgeon and has participated actively in several esteemed conferences in the field of minimally invasive gynaecology, sharing her experiences and helping spread knowledge to other fellow colleagues. Forever smiling and always pleasant, I am sure she is a great doctor for her patients as well. 
I wish her luck in the future."

Dr. Anupriya Agarwal
"Our family has known Dr. Ranjana Dhanu since the past 8 to 10 years. She is very knowledgeable in her field. She gives comfort to the patients, which is the most primary aspect of any doctor. She is now an extended part of our family. Her diagnoses are very precise and she advises minimal medications. She treats all her patients with respect, dignity and compassion."

Vinita αnd Vijay Wadhwa
"Is a very warm, friendly human being while being thoroughly professional and firm.
My family of ladies not only consult her for their gynecological needs but share their general wellbeing and concerns. An attribute very rare these days amongst doctors to be empathetic and patient to its patients.
All the best"

Nalini, Alfred, Aarathi & Pooja
Ranjana always makes you feel comfortable. She is not intimidating like other gynaecologists in fact she is warm and approachable so you walk away feeling completely hassle free.

Abha Bakaya
"Dr. Dhanu is an extremely warm person, in addition to being a fantastic doctor. She's got such calming energy which goes a long way in reassuring a patient that all is well, and all will be well in potentially worrying matters. Her confident approach makes you feel she can cure anything!"

Amira Bhargava
" I have known Ranjana for most of my adult life and I must say that it has been a true pleasure. She is a wonderful knowledgeable Doctor who always takes the time to listen, understand and answer all my questions no matter how trivial. Her attentiveness and caring have often made me feel like her only patient.
Over the years I have come to trust her both professionally and personally and am always thankful to have her in my life."


Pritti Ravindra
I know Dr Ranjana Dhanu since about 12 years.
We have worked very closely over these years and I have seen how good she is at her work.
As a sonologist, I happen to see so many of her patients before and after various consultations, surgeries and deliveries. She spends a lot of time with patients and I find her patients to be extremely satisfied with their interactions with her.
Her patients find her very warm and caring. Inspite of being so busy, I am amazed with her ability to remember and recollect all the details of her patients.

She has a very good surgical hand and her surgical outcomes are excellent

Dr Mitossh Ruparel
I first met Dr Dhanu 9 years ago when I was planning my first baby post 40..both my husband and I was quite nervous as we had read and heard so much about the risks of starting a family so late.

A few meetings with Dr Dhanu and a couple of tests later all our fears were dispelled. Dr Dhanu's positive approach and relaxed manner helped a long way in a very comfortable and easy pregnancy. I had an equally quick and painless (believe it or not !!)delivery and today both mother and son are happy ,bonny people.
Definitely the person to go..she is so much more than just my gynaecologist.. Many Thanks ,doc ..

Sonali Bhandari
"Dr. Ranjana Dhanu has been my gynecologist since I was 20. From curing me of PCOD , to be being a guide  and friend , as a woman here is no one else I would trust more with my body . Her work ethic is unmatched and coupled with her empathy towards every patient that walks through her door. She (Dr. Ranjana Dhanu) is the finest medical professional in the country. I am truly grateful to have her on my team"

Kim Sharma
Early 2001 … we walked into Dr Ranjana and Dr Vilas 's life … Shaan and me went to them for my 1st pregnancy .. In our first meeting itself I knew that I was in safe hands.. From giving fantastic medical care to breaking old myths, from giving options and choices to advising on the right one to choose, I can safely say that they walked hand in hand with me through my trimesters. 24th June 2002 we gave birth to a healthy baby boy Soham .My delivery was smooth and easy and the aftercare was a huge advantage …
when I was pregnant with my 2nd son Shubh, I had a few complications … if it hadn't been for Dr Vilas and Dr Ranjana , today would have been a different story. I still remember them storming into the Sonography room , holding my hand tightly and saying ' it will be fine ' … and today Shaan and me have our hands full with 2 bouncy boys !!
Just not FANTASTIC and updated medical care but solid emotional care is what I have got from my doctors.. Shaan does have a lot of fans but both of us are huge fans of Dr. Vilas and Dr. Ranjana .


Shaan & Radhika Mukherjee
"I've had the most amazing experience with Dr. Dhanu since the day I met her, I remember walking in scared and nervous at Hinduja Health Care and here was this calm and reassuring woman making me forget all about my worries. The best part about her is that she always makes time for you and makes you feel special! I have never felt more secure and comfortable with any other doctor. "

Pragya Yadav
"In my, personal experiences of doctors in various fields of obstetrics and gynaecology, I have never come across someone who is so professional and also emotional, caring, and understanding. Due to this personal consideration I have recommended Dr Ranjana Dhanu to
several of my friends and hold her in high esteem. I wish her all the very best in her future endeavours."

Paulomi Sanghavi
"I was suffering from endometriosis for last 2 years…..lots of steroids, CT scans, surgeries, and constant abdominal pain….finally I landed up at Dr. Ranjana Dhanu's clinic where I got right advice and positive feeling.
I thank Dr. Ranjana for giving me the right treatment and giving me back my life free of pain! Now I am truly enjoying my personal as well as professional life!
I fully recommend Dr. Ranjana for all gynecological issues. She always treats her patients like family members and ensures they go through the treatment with positive attitude!"

Vanashree Pande
Sixteen years ago when I first learnt I was expecting my baby like all women I wanted only the best for my child and that's when I heard of Dr Ranjana Dhanu. My friends Priya n Sabishi were under her meticulous care for their pregnancies and were so happy that without a doubt I knew Dr Dhanu was the one . Words cannot describe her and can never do her justice ..as she is more than my obstetrician..thru the years she has become my friend ,philosopher n guide..always just a phonecall away..which is nowadays a rarity in the medical fraternity..whenevr I hv gone to her for a consultation or any emergency she is the most reassuring ..allaying all our fears ..her diagnosis as accurate and her care as gentle as one
As gentle as one with familial closeness.She has actually sat n held my hand thru an emergency..counseled me on numerous occasions..like I said words would not do justice to her..her poise her perfect attire and her demeanor as she goes about handling her patients with the commendable medical prowess that she exudes is a boon to her profession and worthy of emulating. I am fortunate to have her by my side as a woman and I'm sure all her patients will acknowledge the same. If I haven't said it before..I thank you Dr Ranjana Dhanu for all that u have done ..for making childbirth seem much simpler! and for all you continue to do for us ..May your tribe increase! God Bless!

Rohini Macker
"Managing work with home and motherhood all thanks to Dr. Ranjana Dhanu that even after a C – Section still leading a normal life with out any health problems"

Arti Chmbaikar
"I was fortunate enough to be under the care of Dr Ranjana Dhanu during a very worrisome first trimester of pregnancy. I cannot emphasise how kind, considerate and extremely understanding she was. She gave me continued support throughout a very difficult time, going beyond the realms of a regular Doctor. I was so sad to loose her after I reached my 14th week of pregnancy! I formed a fantastic relationship with her and cannot thank her enough for all that she did. I would recommend her to anyone seeking any gynaecological or early pregnancy issues. Her compassionate understanding for what can sometimes be a difficult time for women makes her the fantastic Doctor she is. I will be introducing my little one to her very soon and letting her know what an important role Dr Ranjana Dhanu played in her early days!"
Dr Ranjana Dhanu is highly knowledgeable and experienced and takes time to explain results in lay terms. In addition to this she has the rare qualities of being exceptionally compassionate, sensitive, kind and supportive. She goes far beyond the call of duty to provide the best possible care and attention to her patients. I am most grateful in particular for the speed with which she managed to arrange follow-up investigations and obtain the results from the same.
"You supported me and my family through a very difficult time. Your care far exceeded the generosity of any profession. I felt safe in your hands, and with your thorough explanations and on-hand support I felt in control of my body again. From the bottom of my heart, thank you."


Anjali Firasta
THERE ARE ANGELS AMONG US…..
I believe certain people cross your life as guardian angels and some connections cannot be explained off words alone.
She was Dr Ranjana Dhanu when I first met her and then was Ranjana, my Friend and Angel. Being a 1st time mom is an ordeal in itself. Ranjana was with me, by my side when I almost miscarried my child at 5 weeks or thereof. Her determination, patience, resilience and strength was inspiring and pulled me through a nightmarish incident. When I finally went into labour 8 months later it was a breeze! I knew I was in good hands and she stayed by my side like a mother hen all through. No amount of words or thanks could truly express what I owe her.
It's hard to find Love in this world. I'd imagine a CHILD is the purest form of that. A child can make you feel that you were put on this Earth for a reason. In my case I have Ranjana to thank for making that possible for me.


Farzana Cama Balpande
"I met Dr. Ranjana Dhanu madam when I got admission for DNB in 2013 at Lilavati Hospital. From day 1 madam floored us with her sound clinical approach towards patient management and compassionate approach towards us students. With surgical skills which are par excellence, she is also one of the best teachers. With proficient academic knowledge, madam is the best person to learn bedside manners and empathetic patient management.  She is loved by her patients, staff and students alike. She is like mentor and mother to us."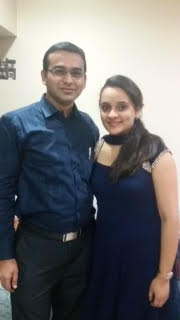 Dr. Nirmal Nitin Gujarathi
"Ranjana is a thorough professional, a fantastic doctor who knows her subject well, a warm person with an innate ability to reduce her patient's stress levels and put them instantly at ease. I have known her for the past 4 years, her attentiveness to the minutest things and her prompt response to calls and messages have been invaluable.
Best Regards,
Zarin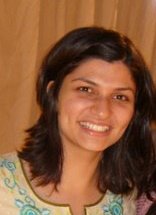 Zarin D
"Dr.Dhanu treated and operated on my Mum in 2004. Her diagnose, care and sprit was so splendid that we are friends today. The keenness with which she treats her patience is with much grace and involvement. A rarity in today's world.
I have since recommended Dr.Dhanu to many of my friends and family and each one has had an excellent experience. Wish we had more Doc's like you in the city.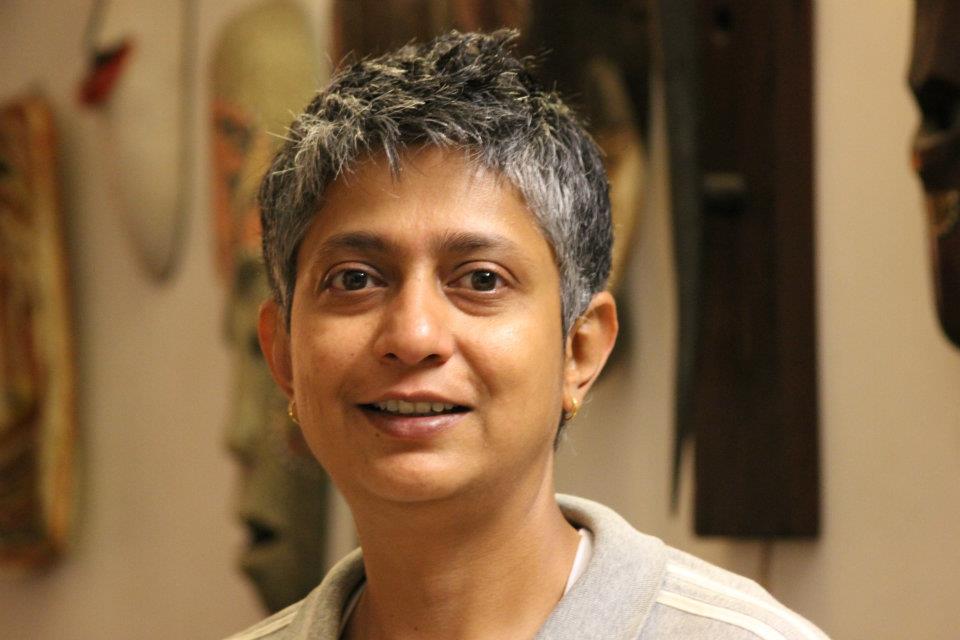 Archana Trasy
"Aayaan and Advika are the two God sent angels safely handed over to me by Dr Ranjana Dhanu.
Owing to her very cautious approach and excellent hand I could sail through my precious pregnancies which I strongly believe would not have been possible without her expertise."
"I could message her at 2 in the morning and be sure to get a quick response which would calm all the restlessness and worries always. This responsiveness is rare amongst busy doctor. The counselling sessions my husband and I have had with her really helped us as first time young parents and then as parents to a naughty toddler and little baby."
"I can't thank her enough for being with me through the most beautiful yet challenging times of my life.
We wish the best in life for her always."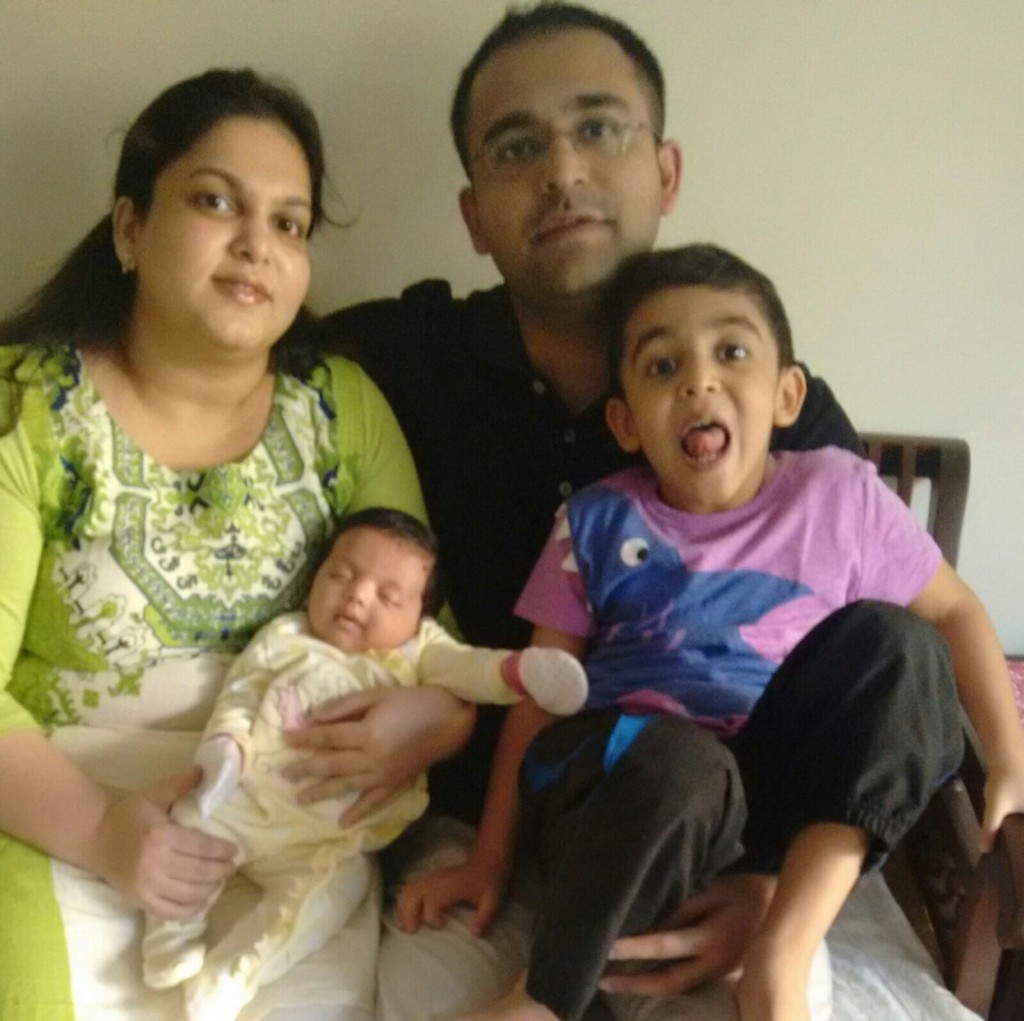 Anubha Chugani
"I have known dr Ranjana Dhanu for over a year now. I went to her for a annual routine check up and fortunately have not required any serious treatment in this time. I have had various appointments with her though and have always found her to be warm and assuring – friendly yet firm and above all most capable and effective in her diagnosis and treatment. She responds very quickly to to all my queries on the phone and for this I am most grateful as I know she keeps an incredibly busy schedule. She has always been proactive in suggestions for my reproductive health and general lifestyle and I feel very reassured that she is a phone call and short trip away."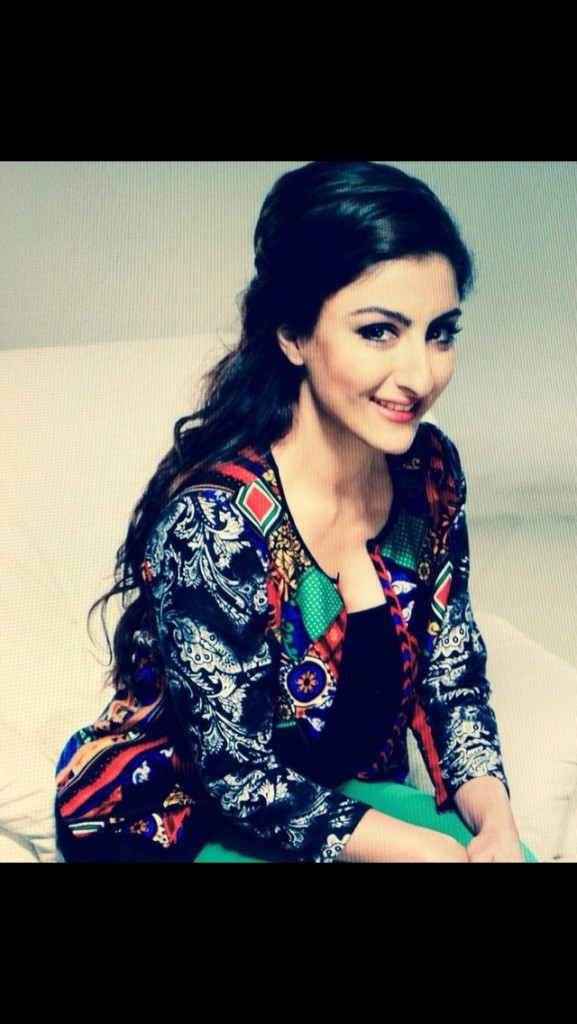 Soha Ali Khan
"I remember the first time I walked inside Dr. Dhanu's cabin back in 2010 when I was carrying my first daughter..I felt so assuring and relieved for being in safe hands"
"From explaining the process in layman's terms to hand holding in every step it was truly an exciting journey for me with Dr. Dhanu around."
"My second pregnancy in 2014 was a little complicated with infections and a thyroid issue ..but I didn't feel a bit nervous cause doctor made me feel strong and all problems as routine."
"From tips on restoring your beauty and body postpartum to handling a new baby at home Dr. Dhanu had it all for me. Thanks a ton Dr. for bringing out my two healthy beautiful princess' to this beautiful world."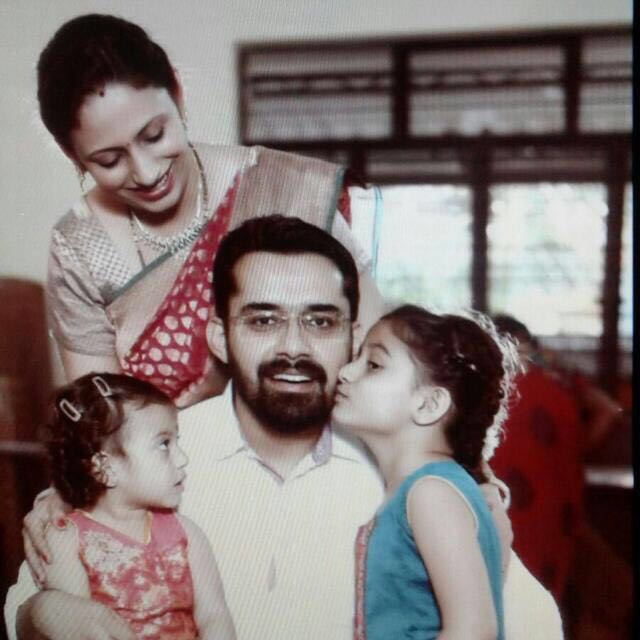 Niyati Rao
"The Thermal Ablation / Cavaterm Therapy gave me my life back. After nearly 12 months of irregular periods accompanied by long spells of heavy bleeding that required me to take painkillers which left me functioning in a state oblivion. This was hazardous for my work. I could not stand for long, travel was out of question and I was forced to let go of important assignments. Just when I was beginning to think this is how my life will end – bleeding to death, Dr Dhanu presented a solution that was not Hysterectomy! I was adamant that I will not remove my uterus for my own very personal reasons. So the Thermal Ablation was scheduled 2 days prior to my full day workshop that was at Pune. I was assured that I could travel the next day and get on with my routine life – no post op bed rest etc.!"
"And that was exactly how it was. I was back on my feet the next day, and there has been no looking back since then. It is only when I hear other women talking about difficult periods that I recall my own tough time."
"But thanks to Dr. Dhanu, I am now leading a healthy life without the hassle of difficult periods."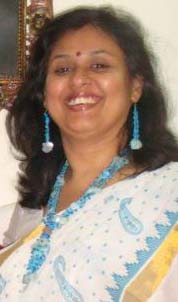 Smitha Matai
"Aayaan and Advika are the two God sent angels safely handed over to me by Dr Ranjana Dhanu."
"Owing to her very cautious approach and excellent hand I could sail through my precious pregnancies which I strongly believe would not have been possible without her expertise."
"I could message her at 2 in the morning and be sure to get a quick response which would calm all the restlessness and worries always. This responsiveness is rare amongst busy doctor. The counselling sessions my husband and I have had with her really helped us as first time young parents and then as parents to a naughty toddler and little baby."
"I can't thank her enough for being with me through the most beautiful yet challenging times of my life."
"We wish the best in life for her always."
"It was after 5 years of marriage when we started going to Dr. Ranjana Dhanu and four things struck us in the first few weeks itself"
"1. Her positive attitude – which we were badly in need of after going to 2 doctors in 3 years"
"2. Her ability to take complete responsibility of her patient's life. She counselled us on every step from pregnancy, to lifestyle, to even travelling and was present for us whenever we needed her – at 12 in the night or even on a Sunday"
"3. She never felt unsure, and her confidence rubbed off on us as well – helping us reduce our stress levels. Otherwise, in today's age, when over information can be a problem, most patients end up second guessing their doctors, and stressing themselves out"
"4. Her desire to protect her patients from every problem – including lengthy hospital procedures and sometimes uncooperative staff."
"When we started going to her, we were a bit apprehensive as we were shifting from Jogeshwari to Thane from where Bandra West would be at least 1.5 hrs away. But that ceased to be a problem from the first visit itself – as her positivity was infectious. And even when we decided to have the delivery in a hospital at Santa Cruz, we never felt that we were taking a big risk."
"We think what sets her apart is that she tries to emotionally connect with her patients, is very compassionate, understand her patients lives and be friends with them rather than simply be their doctor; based on which she can take quick and correct decisions. Naira is our first child, and we needed a doctor who understands that. Even after the delivery, she has been helping us – counselling us, replying patiently to our small very basic queries. "
"For us she is not a mere doctor but a mentor, guide and a friend with whom we now have a life long relationship."
"While both our families are holding us responsible for the bundle of joy that we have brought in their lives, the fact is that Dr. Dhanu is as much as a contributor to that joy as we are.
Thanks Doctor Ranjana,"
Asha, Sanket and Naira Maheshwari
"Faith is what keeps one going with a positive attitude. That's exactly what Dr. Ranjana Dhanu instilled in me and my husband when we were trying to start a family. Today I am so proud that Dr. Ranjana Dhanu helped me achieve one of the most precious experiences of my life-motherhood!
In the first meeting itself, Dr. Dhanu explained to us my medical issues and the treatment plan so clearly that I had never been so sure about the procedures I would undergo in order to conceive. And YES! we got our good news exactly at the time Dr. Dhanu had estimated for us!!! We can never, thank her enough. She took care of the minutest details throughout my pregnancy, and post delivery too, and not once was unavailable to clear doubts. "
"Besides an awesome medical care, we received a rocksolid emotional support from Dr. Ranjana even as she checked on my newborn who was in the NICU for 2 weeks and made sure I stayed positive throughout. I had never experienced a doctor so involved and empathetic towards patients.
Thankyou ma'am, we really, really, really couldn't have come this far so beautifully without your care and support."
"My association with Dr. Ranjana Dhanu started somewhere in 1997. Ever since the first day, she has been more of a friend than a doctor to me. My husband and I had been trying to conceive for a few years and when we finally met with Ranjana, it just happened effortlessly as she was able to diagnose and fix a minor issue of hormonal imbalance."
"Ranjana was with me through both my pregnancies and even though my boys were both born in Canada, she went out of her way to communicate with my doctors there on both occasions. There were times when we needed to call her urgently and sometimes it would be in the middle of the night for her due to the time difference and I can't thank her enough for standing by me so patiently. It almost felt like she was right there."
"Over the years, Ranjana has not only looked after my physical health but on many an occasion been my pillar of strength by speaking to me and even counselling me when I have been emotionally stressed."
"Ranjana is someone who gives you confidence by just her presence. You just feel you are in good, capable and strong hands with her around.
Thankyou Ranjana"
"We met Dr Ranjana during a pregnancy complication and she was a tremendous source of positivity and guidance. Her professionalism, empathy and dedication make her stand head and shoulders above others. The honesty / alacrity with which she answered every single question & doubt was a constant source of strength. We have very rarely come across a doctor who is willing to spend so much of quality time through the treatment / recuperative journey. The true holistic approach of medicine requires expertise and high emotional quotient, Dr Rajana epitomizes this approach. I am truly grateful to Dr. Ranjana."
"An ovarian cyst does not necessarily have to be operated! I was overjoyed when Dr Ranjana Dhanu reassured me and eased my apprehensions about a 4.5 cm ovarian cyst that was accidentally diagnosed in my health checkup! I visited a couple of gynaecologists in Bandra and they opined saying I would require surgery. The fact that I am just 24 years of age I went for a third opinion to Dr Ranjana Dhanu."
"My comfort level escalated the minute I walked into her room. Her smile and sympathetic approach was something unusual. The experience I had with the other two gynaecologists was totally different and I had begun to believe that doctors are an unfriendly lot! But the fluency and ease with which she reassured me was so comforting. I was requested by her to have further tests done to study the nature of the cyst. She on follow up prescribed me some pills and now my cyst has almost regressed!"
"Thanks Dr! Wish I has seen you earlier."
"Dr. Ranjana Dhanu is one of the finest gynaecologists in our country. She is very calm, approachable and handles critical situations with great ease. She takes utmost care to make her patients feel comfortable and happy… we would always look forward to meeting her for our regular check-ups. Her expert advise and attention to detail at every stage has helped me to get through difficult times effortlessly… Can't thank her enough for her support guidance. We had a wonderful experience with her."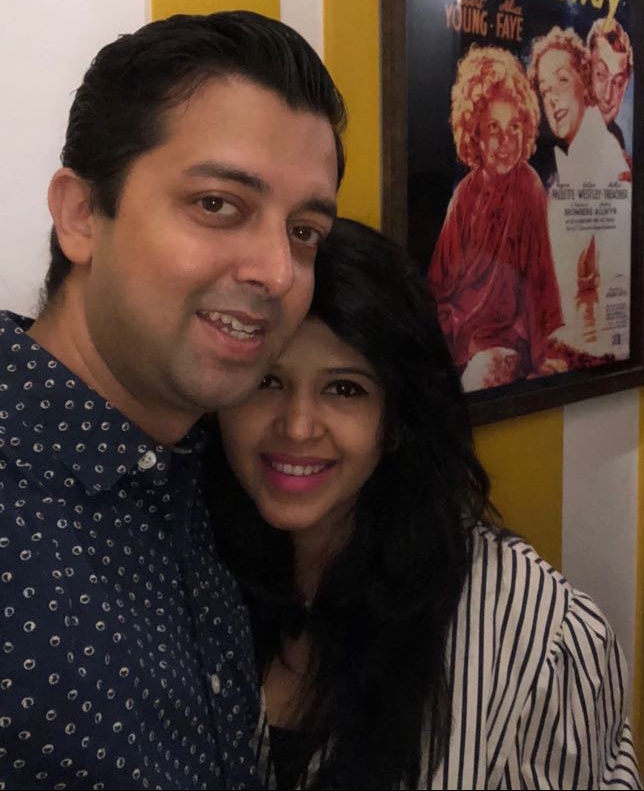 Devesh Singh, Senior Manager, Digital Marketing, Glaxosmithkline
"It was an anxious time for me and family when I was diagnosed with a large fibroid in Dec 2016.
I underwent initial consultion from Dr Ranjana Dhanu who provided a complete view of the issue and the solution, which was to undergo surgery laproscopically. It was comforting in the manner in which she handled this phase of mine, right from getting myself admitted till the post-operative care and subsequent counselling. I knew I was in good hands.. She not only performed the rather complicated surgery well but also provided a complete overview on the precautions to be taken, diet to be followed and other actions to be done to ensure a complete recovery.
Found her to be very helpful and well equipped to tackle the situation. She is someone who is always available for you even after the treatment. Her knowledge confidence dedication and affection towards the patients sets her apart.. Thank you Doctor.."
" I was under her care for my first pregnancy which happened recently . She is just amazing, you can connect to her and she is very understanding, patient and down to earth. She will comfort you in every way possible, guide you. Very approachable, call her anytime and she will respond. She is my gynac for life 😊 "
Nivedita Raikar
" Where do I start and how do I end…. It's a challenge to describe what Dr. Ranjana Dhanu means to me!!! Of all that she is to me, a gynac comes at the end of the list. After a series of horrendous experiences at the hands of some of well known doctors, Dr. Ranjana was a god send for me and my husband. Although a bit late in my pregnancy, I saw her in my 7th month. For the first time ever, I decided to read her reviews before visiting her and I was amazed to see that all her testimonials described her to be god-like in different vocab and expressions. Me and my husband were waiting for the elevator at Hinduja and I saw a tall pretty graceful gorgeous lady greeting the nursing staff so affectionately that in my mind, I could immediately match this personality to be fitting the description that I read about Dr. Ranjana on Google. And then when I entered her cabin, there she was…graciousness personified sitting across the table. My husband had made an irrelevant mention on the phone that it was my birthday but I didn't expect her to remember it let alone wish me. I was impressed and relieved that all the eulogy that I read could possible be for real. From that day to now, me and my husband feel indebted to her for making my pregnancy as smooth and painless despite the complexities I had. While her medical expertise is par excellence, what she does to her patient's mental well being and how she goes out of her way to put people at peace is exemplary. Our counselling sessions with her including couple counselling prepared us for what was in store for us as partners and her pearls of wisdom left us in wonder and became our guiding principles of how to be great parents and yet retain the companionship. I cant fathom how she manages to take time out to connect with her patients beyond the routine visits & requirements. I wouldn't call people like me patients as she hardly treated us like one. We are family and so is she to us. She put us at ease from the first consultation till the surgery and the recovery that followed. She is a gynac, lactation consultant, psycho therapist, psychiatrist all rolled into one. Under her care, I felt safe and confident and I continue to lean on to her for treatment, support and cure. From not wanting to have kids, I may just end up having one more if it's with this magician named Ranjana! Just like God couldn't be everywhere, he created mothers. I'd add her name too right next to my mother. My baby gave birth to me as a mother and my doc ensures I am the best mother there ever is!"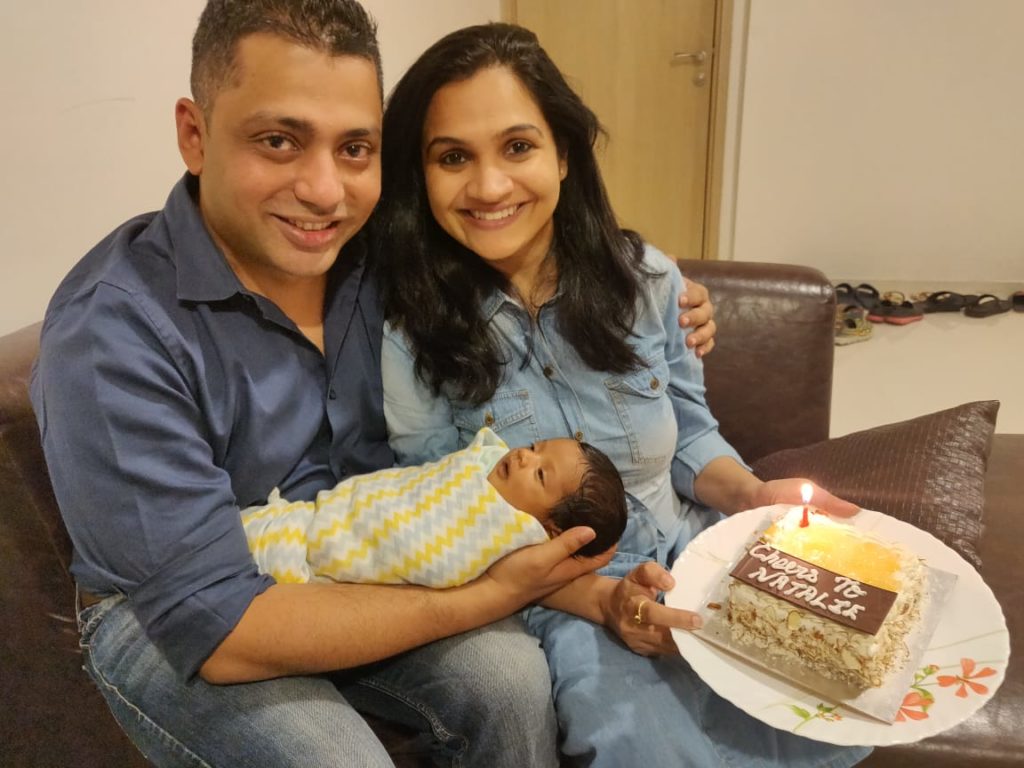 Natasha Dsouza
" Truly amazing experience with equally amazing Ranjana Mam!!!!
My association with Dr Ranjana Dhanu is from last 8 years since my first pregnancy. She made both my pregnancies painless through her extraordinary knowledge, abundance experience and of course with her infectious smile. She is not only a perfect doctor but also a great human being. She will explain everything in detail and will give you quality time. Besides her knowledge and experience, what I like most about her is her extremely loving, caring and warm attitude which takes away half of the pain of her patients. She gives me such comfort that I can call her anytime, even at 2 am in the morning and she will respond immediately with same empathy.
Personally, she has been a source of inspiration and bundle of positive vibes for me. Not to forget, even my 6 years old daughter becomes happy and cheerful by just listening her name and look forward to see her during my all visits to her. Such is her Charisma!!!!! I have great faith in her able hands. I can't thank her enough for being such a lovely doctor. She is like a God figure to me. You are more than a doctor to me, Mam. Love you a lot.……………"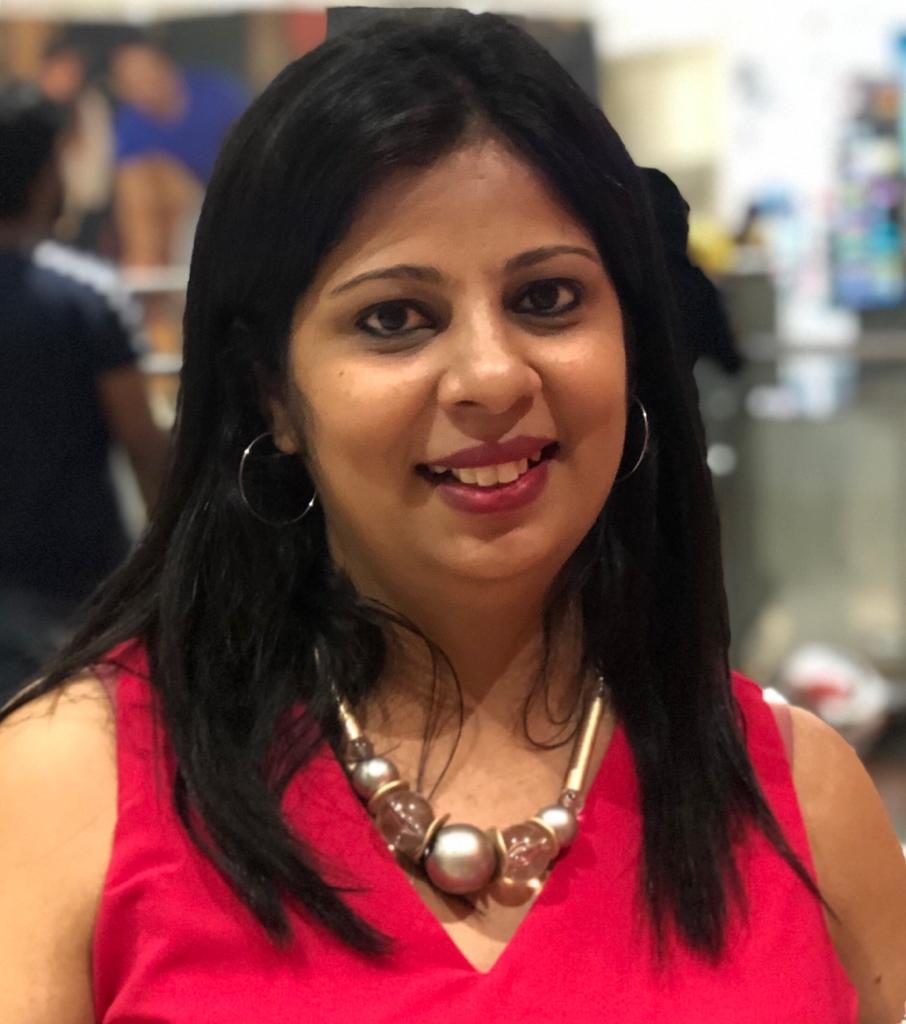 Rubi Chaturvedi
" Dr Ranjana Dhanu a very renowned Gynaecologist in Mumbai but a very DOWN to earth and a Motherly figure.We got married in year 2003 and since we were trying for a child, we went to all types of Doctors where ever possible but couldn't achieve the dream.We were introduced to Dr Dhanu by one of our friend who was taking treatment from her, Dr Dhanu counselled us after going through the history of treatments we had taken and explained us how she will proceed with us for achieving our dream.
My wife after having the first meeting with Dr Dhanu got hopes and confidence about having our child again as she had lost all the possibilities after four Miscarriages. Dr Dhanu is a gem of a person professionally and as a human being, she worked very scientifically with our case. With her vast experience and dedication in our case, she made our dream come true on April 28, 2018 parenting the Twin Babies – Riddhi and Siddhi.
We really don't have any words to thank her for what she has given to us. We would wish and pray to God that her magic hands should spread as long as possible and deliver the dreams to all the parents like us. "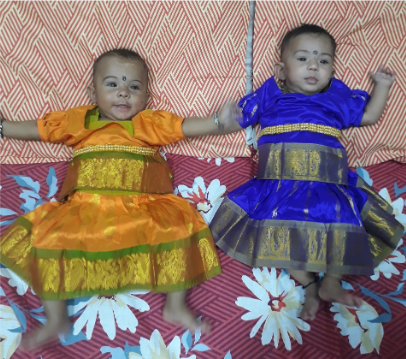 Senthil
I was referred to Dr. Ranjana Dhanu when I was going through a very bad phase of my life (physical as well as mental). I was pregnant for the first time but within two months was asked by my earlier Doctor to discontinue the pregnancy due to complications.
We were very sad and came to her with a hope to have a second opinion and got attached to her forever.
She checked all the reports in detail and explained the facts. Unfortunately there was no option but to discontinue but she ensured to have all essential tests to identify the root cause before we discontinue the pregnancy.
She suggested rest for few months and prepared both of us well for my next pregnancy. We were suggested right food, exercise, medical supplements in line with our medical conditions. She was integral part of our planning. We felt that she was a family member rather than a Doctor. Her detail knowledge of the subject, experience, skills, confidence, positivity, convincing power and a very caring nature makes her an exceptional personality. Whenever I consult any other Doctor for any other issues than gynac, I always miss that special factor she has.
I cannot forget her words to me "Jyoti! you can populate the World…" which gave me tremendous confidence and helped me to move on.
Dr. Ranjana Dhanu has a very special place in our lives; we are now proud parents of twin daughters and a son. We have no words to thank her…
She is definitely more than a Doctor for us. Every complicated case we have referred to her has resulted in miracles and had positive results.
Both of us are very fortunate to have her in our life as our gynecologist….we wish her good luck and a very long healthy life.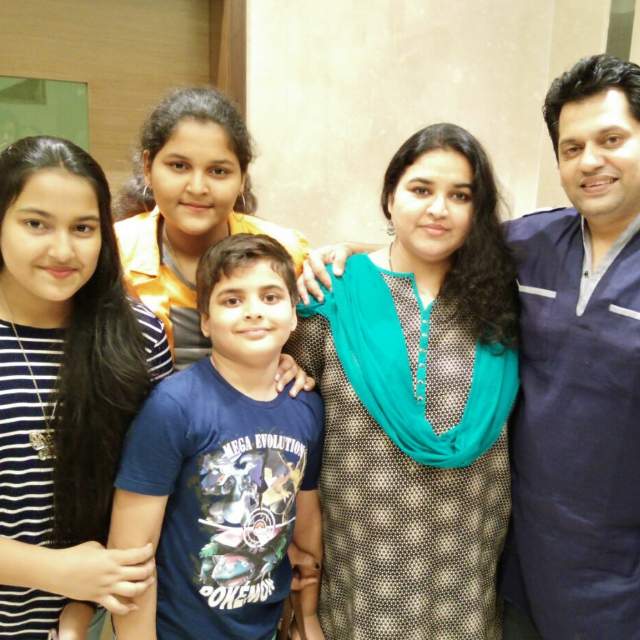 Jyoti Dabholkar & Amol Dabholkar
"Dr Ranjana Dhanu fondly call her Ranjana Aunty will always hold a special place in my heart… not because I owe my first child to her but because she has always been there for me in my good times and bad.. one of the finest doctors of today … Dr Dhanu head people with her kind words and magical touch .. for me she will always be next to God … She is one of the best doctors of the world … May she rise n shine .. more n more luck love and success her way.. Touchwood n I love you … Remain the same Aunty
"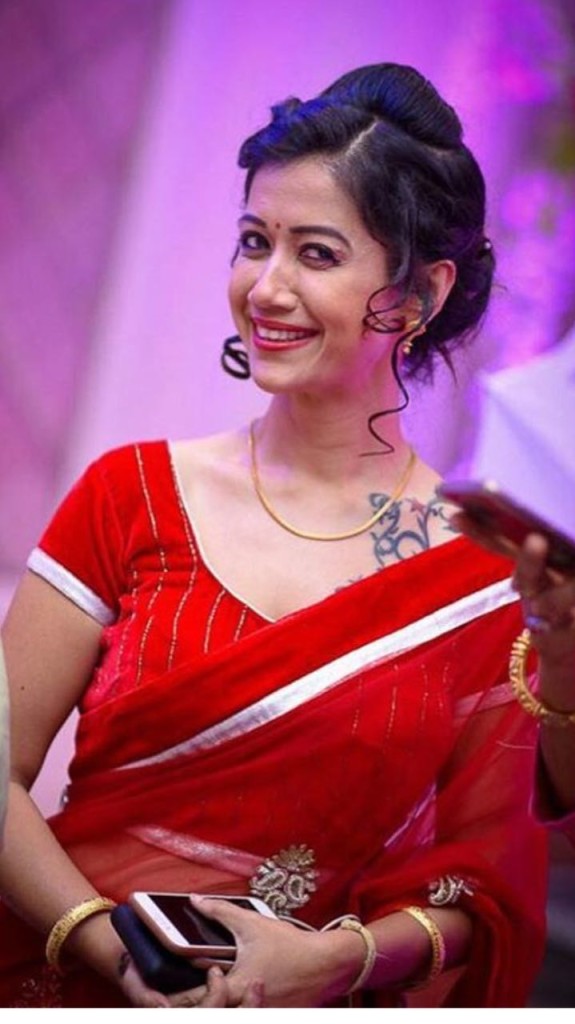 Priyanka Borah
"Dr. Ranjana has been more than a doctor to me …she has been my support system through the last 3 months of my pregnancy.
I was detected with ICP which is a rare condition that occur to only 2 – 3% of pregnant females… this being my first pregnancy the entire family was shattered to hear this condition but the day we saw Dhanu ma'am was the day we all felt that I was in the right hands…
we saw her each week in those last 3 months to monitor the growth of my baby… we owe you a big thank you Dr. Ranjana to help us pass through this difficult phase.With so much anxiety in
my mind about my child's health she always taught me how to feel happy.With her tips on how to manage stress, healthy eating and constant supervision we are now blessed with a baby boy"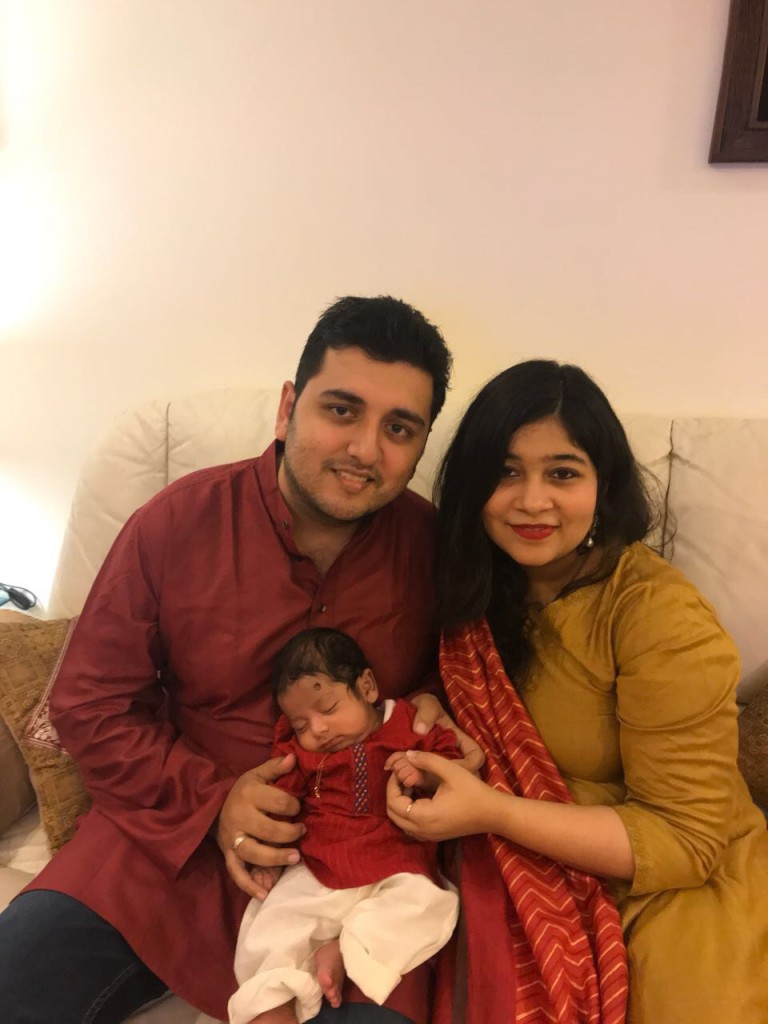 Kiaan Mehra & Aakanksha Mehra
"Dr. Ranjana is a phenomenal doctor. She gives ample of time to listen your concerns and complains than any of other doctor I have ever seen. She is thorough, intelligent and welcomes patient questions with thorough answers.
I remember after seeing many doctors for a year and half ,when I first visited you told me to start the treatment from next month your words itself gave me such a positive vibes and guess what I conceived the very next month , truly you were my "lucky charm"
You made my whole pregnancy such an awesome journey, though there were bit ups and downs but I always had your hands on me , I called you anytime (day/ night) for any concerns regarding my health and you  were always available and catch my right nerve every time.
Dr. Ranjana, you mean a lot to us, you are more than a doctor to me (you always give me motherly feeling). It was you to give me encouragement and assurance for my wellbeing through this journey.
In the OT I was too nervous but I knew that me and my kid were on safe hands, your presence itself gives lot of assurance and trust.
 

We have no words to thank you. You are incredible at what you do beyond that you are a wonderful person and we're so much thankful we found you!

"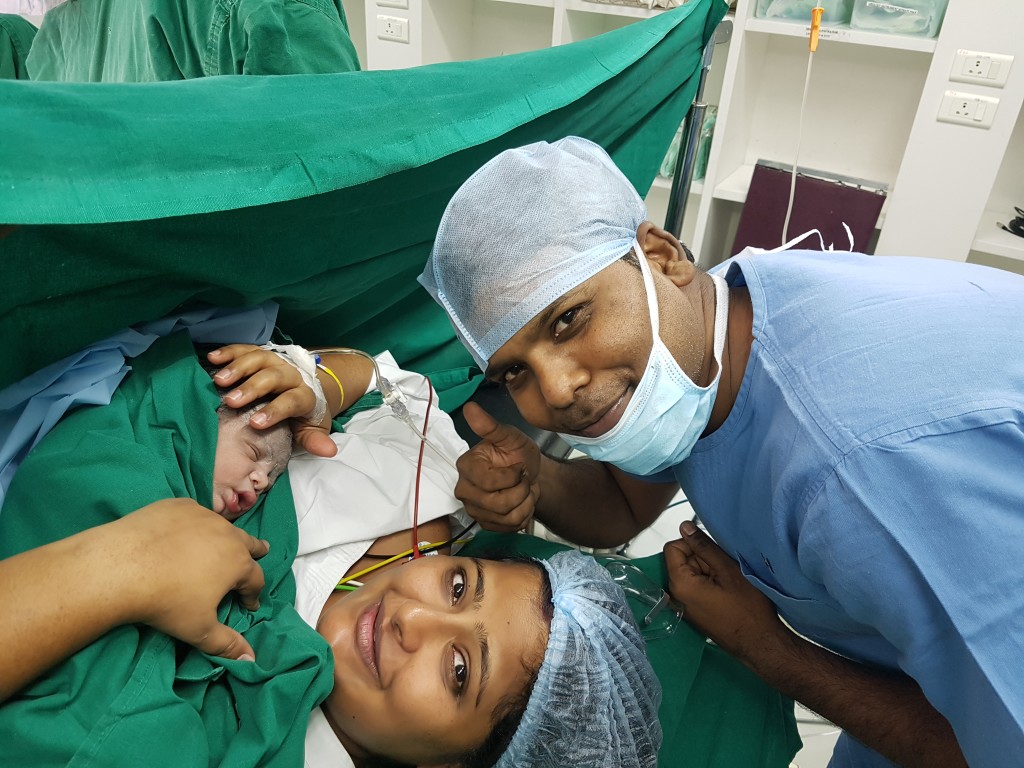 Neha Dubey
"Dr. Ranjana is a phenomenal doctor. She gives ample of time to listen your concerns and complains than any of other doctor I have ever seen. She is thorough, intelligent and welcomes patient questions with thorough answers.
I remember after seeing many doctors for a year and half ,when I first visited you told me to start the treatment from next month your words itself gave me such a positive vibes and guess what I conceived the very next month , truly you were my "lucky charm"
You made my whole pregnancy such an awesome journey, though there were bit ups and downs but I always had your hands on me , I called you anytime (day/ night) for any concerns regarding my health and you  were always available and catch my right nerve every time.
Dr. Ranjana, you mean a lot to us, you are more than a doctor to me (you always give me motherly feeling). It was you to give me encouragement and assurance for my wellbeing through this journey.
In the OT I was too nervous but I knew that me and my kid were on safe hands, your presence itself gives lot of assurance and trust.
 

We have no words to thank you. You are incredible at what you do beyond that you are a wonderful person and we're so much thankful we found you!

"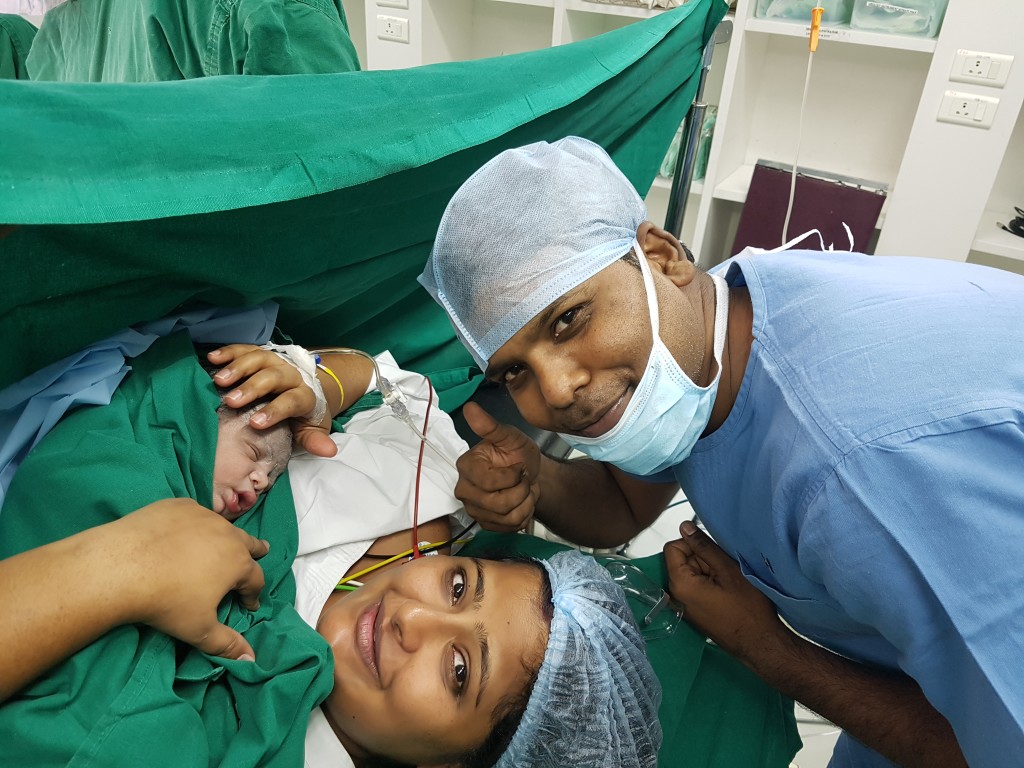 Neha Dubey
"We are writing this commendation for our dear doctor Dr. Ranjana Dhanu – Dr. Dhanu was my Gynecologist Doctor during the birth of my First Child Ms. Samiksha Srinivas. She will always have a special place in our hearts and minds for all time to come. Whenever we see Shamiksha today, Dr. Dhanu invariable comes to mind not only beacause she helped deliver Samiksha but also beacause Samiksha wants to grow up to become a Gynecologist ! We always tell Samiksha that Dr. Dhanu should be her ideal in this regard. Dr. Ranjana Dhanu is a leading luminary in this field today and has overseen the landing on earth several little souls. She has several qualities that we simply cannot find in any other Gynecologist (any city in India, any hospital)
A few being ;
a) Clear, crisp, Frank Communication
b) Detailed Analysis of the Issue at hand leaving no store un-turned
c) Accessibility, Reach-ability and Approach-ability at any time od the day (depending on the issue)
e) Positive outlook
………. to name a few
If Sachin Tendulkar is the gold standard for Cricket and mother
Teresa th gold standard for charity then Ranjana Dhanu surely
stands out as the Gold standard for the field of Gynecology.
If  Dr. Ranjana Dhanu is your gynecologist, then set your mind to rest
and reassure yourself -Nothing by=ut the best is in store for you.
We love you Doctor"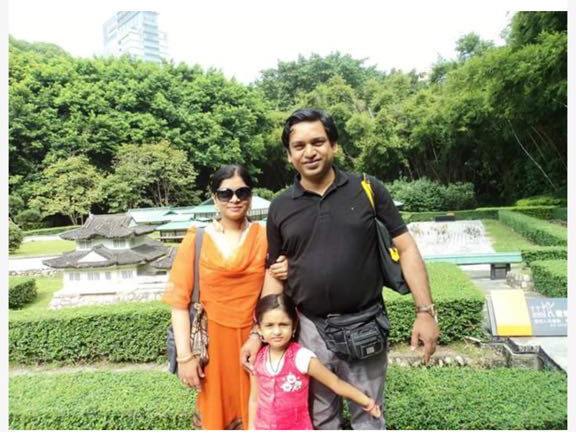 Soumya and srinivas
"Dr Ranjana Dhanu, my mentor, my guardian, my mother in Mumbai. I have known her for the last 6 years and to me she is more of a friend/mother who I can vent out to whenever in trouble. When I delivered Kabir on 25th November,2016, he was born a month prior to my due date, Dr Dhanu ensured I was treated like a queen at Hinduja, Khar. I was not an easy patient but Dr R.Dhanu & Dr V. Dhanu were always there by my side during my delivery and recovery. Dr Dhanu is a perfectionist, she is someone who will never take chances. I love that about her. The relationship we share is extremely special, She is my mid-night friend if I'm in trouble. Dr Dhanu is undoubtably graceful and charming and she is someone who I always look upto. Apart from being an extraordinary doctor, she is a great human being who believes in giving back to society. In today's world you rarely come across doctors who believe in providing medical services tirelessly and help patients in need financially. I always say, Kabir is her grandson and the two KB's in my life (Karan & Kabir) can't thank her enough for always being there for us."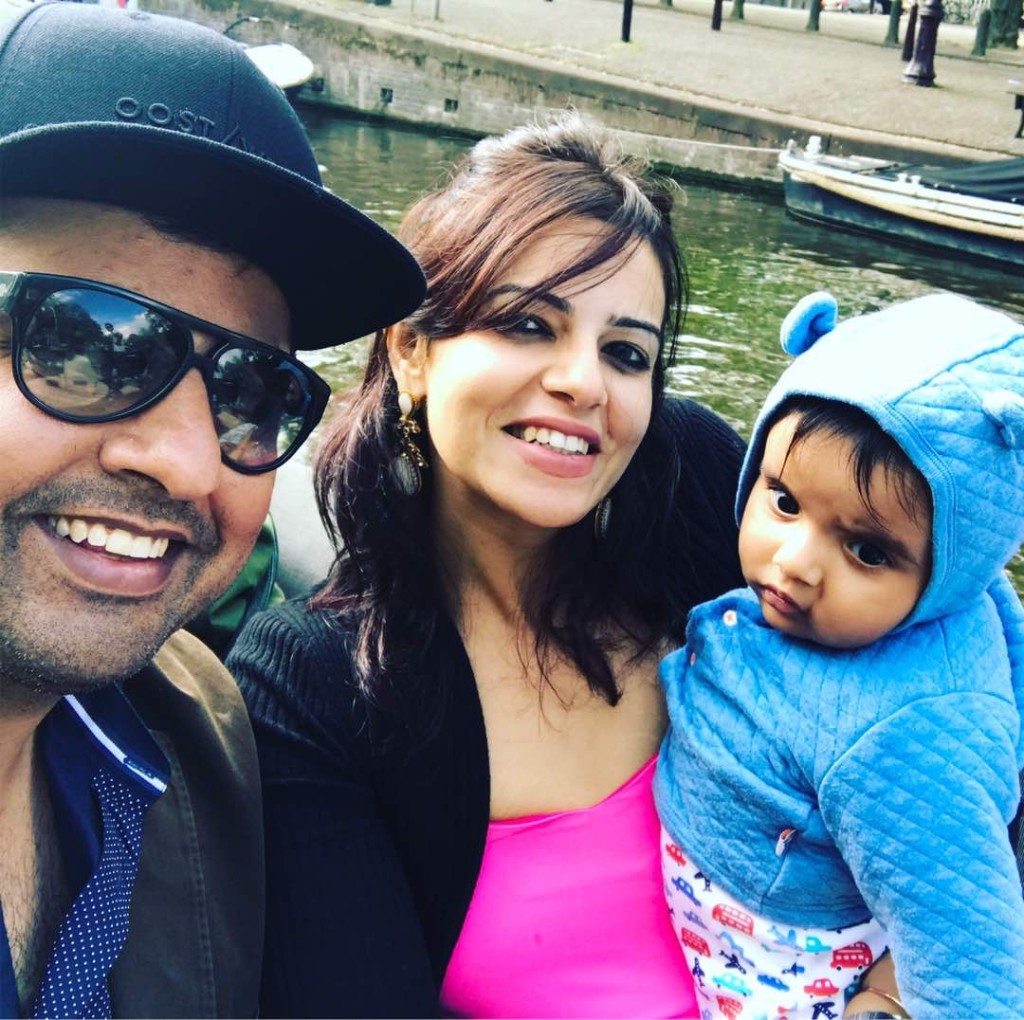 Shruti Behal
"Dr Ranjana Dhanu was referred to us by our extended family -Shaan n Radhika Mukherjee.. and that was the best gift they could give us for our first child.. Doc Ranjana was more than just a gynaecologist … she ended up being a counsellor/ agony aunt and a great friend by the end of it all… her patience and warmth made the entire pregnancy a beautiful and memorable journey… and today we are super proud parents of the worlds most beautiful daughter- Vedika… thank u Doc for being such a precious part of our lives!!!"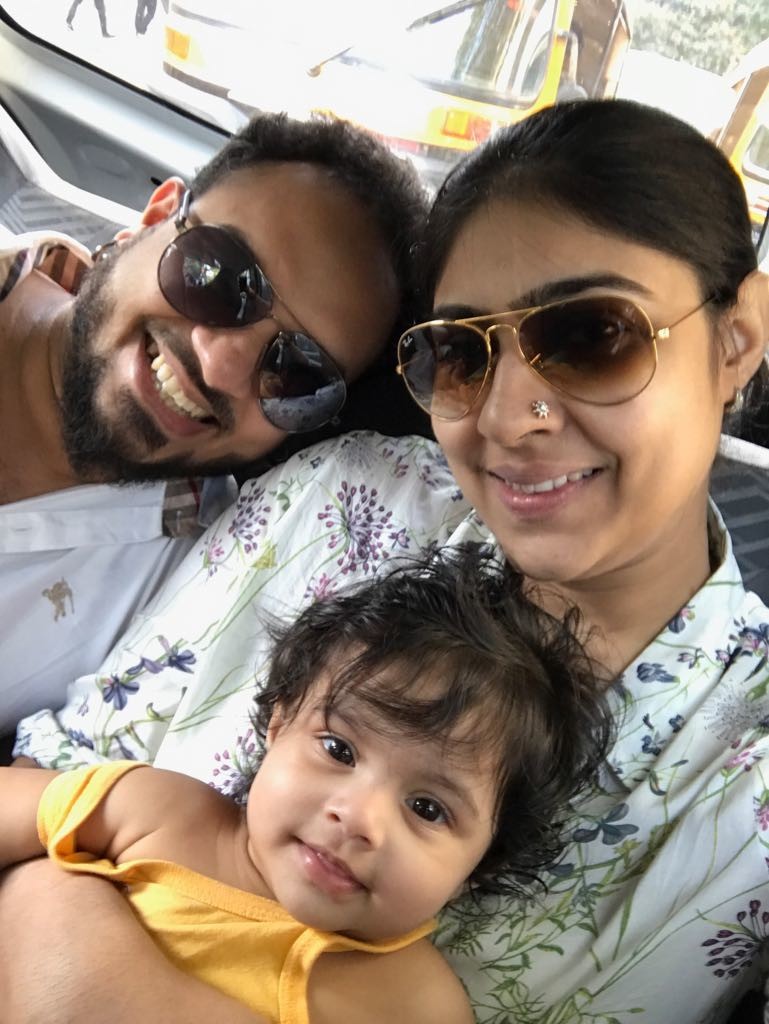 Arushi and Gourov Dasgupta
"Dr Ranjana Dhanu is the most caring and friendly gynecologist anyone can ask for. She delivered my baby girl at Surya Hospital. Her services are outstanding and she is very prompt at replying to queries on whats app. My baby was in a transverse lie position, she operated through C-sec and the baby was delivered very smoothly. Had a memorable experience delivering my baby with her and I would definitely recommend her to anyone looking for a gynecologist."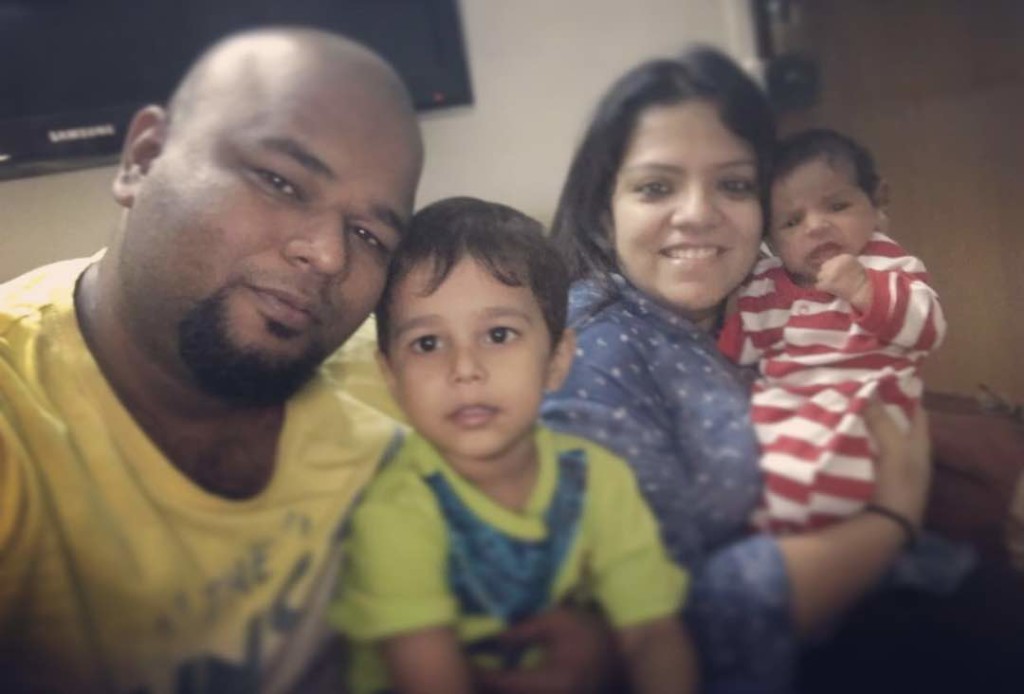 Rukshi Sarin
"I know Dr. Ranjana Dhanu Mam from Dec 2015. I had gone for the check up as I had fibroid in my uterus and had to be operated (hysterectomy). To be true I felt so safe and comfortable in operation theatre that my BP was normal and I really felt as I was in safe hands. Regularly I go for my routine check ups. I am satisfied and thankful as she responds very quickly to all my queries over the phone in her busy schedule."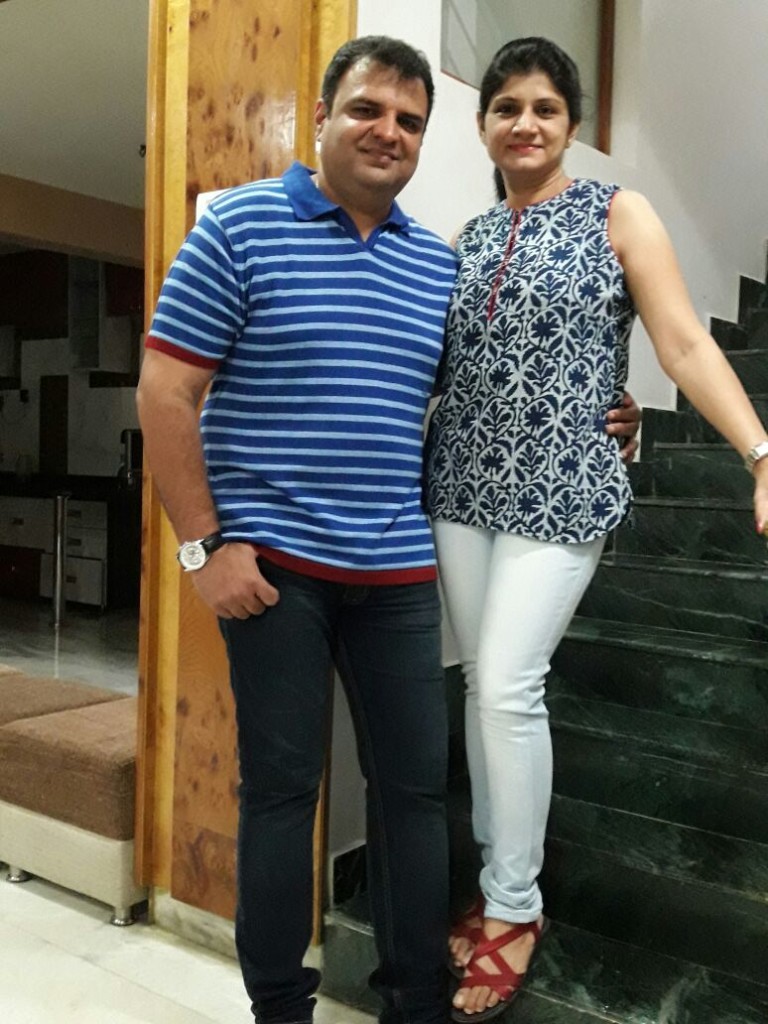 Ekta Surma
"Dr.Dhanu has been my gynaecologist for last 6 yrs. I was suffering from stress urinary Incontinence and heavy menses at the age of 43, due to uterine polyps and fibroids , while the other gynaecologist were keen on taking out my uterus,but on consulting Dr.Dhanu ,she did a conservative surgery, through laporoscopic but minimally invasive."
"I was doing quiet well for next 5 yrs. Then at the age of 48,during my menopause period , on undergoing a regular USG checkup , my uterus showed multiple small fibroids and endometrial thickening . Dr.Dhanu now planned a hysterectomy as my menopause had already approached and due to risk of endometrical. Though it was a major surgery but with Dr.Dhanu 's skills , she did it so minimally invasive as possible. I was back home in 5 days and recovered well within a month.I m very thankful tp her for not removing my uterus at 43, i got additional 5yrs and hormones.
Apart frome being a great gynaecologist , she is a great human too.She takes care of her patients as well as her family."
"Her radient smile and vibrant personality has a great power of healing . over past 6yrs our relationship has strengthened and I have found a dear friend in my Doctor."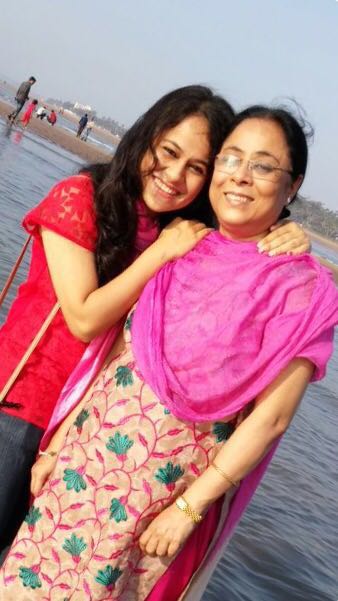 Ismat Ara Khan
"In the month of July, I went through routine USG checkup as suggested by my dermatologist. I was taken aback by reading the results of my tests. I was diagnosed with dermoid cyst on my ovary. Being an accounting professional, it was difficult for me to understand the results of my test. The thought of carrying dermoid on my ovary made me more worried with each passing day. After an internet search for best gynecologist, I got contact details of Dr. Ranjana Dhanu. I was very worried as to what would be the future course of action. When I entered her cabin in Hinduja Surgical Clinic, she greeted us with warm smile and explained the meaning of test results. She suggested laparoscopic surgery which would mean least stitches on abdomen and getting back to normal routine as early as possible which was utmost important to me. Despite her busy schedule, she was always answering to my queries at any point of time which many doctor do not even bother to do. I fully recommend Dr. Ranjana Dhanu. I can't thank her enough for being with me."
"Regards
DM"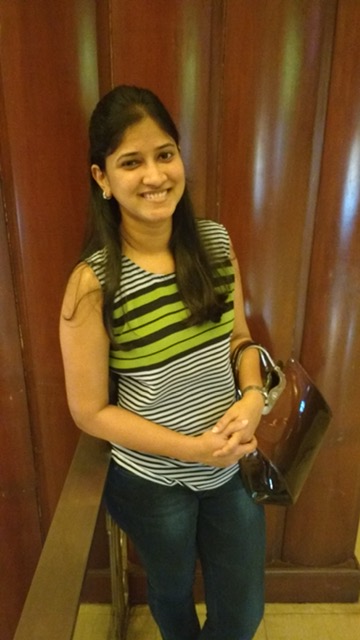 Disha Morye
"I have know Dr Ranjana dhanu for nearly 20 years. She is not only my gynaecologist but today I share a strong bond of friendship with her. Despite her extremely busy schedule she always has time for her patients as she believes in 'patient first' always."
"Her accurate diagnosis and medical advice has always made me feel that I'm in safe hands.
I sailed smoothly through my menopause, recently… thanks to the medical care and emotional support rendered by her at all times."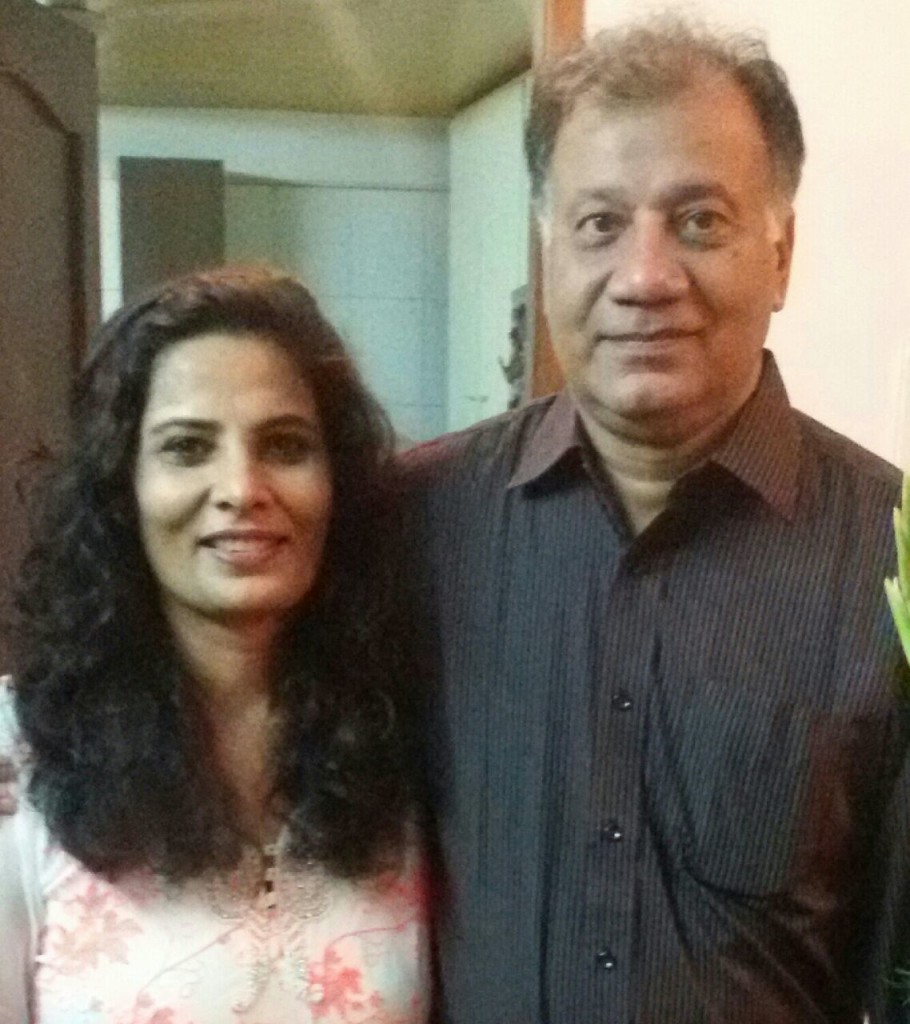 Neera and Harish Dayani
"A woman is born to take care of her family, home, at times work and in all these priorities she forgets one most important thing that is SHE."
"An evening with Dr. Ranjana Dhanu has been more fruitful and worthwhile then ever expected. Every guest who had come to the talk show came with the usual mindset that it would be some boring lecture on women and their problems but what it turned out to be was a complete opposite and on the contrary one of the most interesting and motivating talk show. Her thorough knowledge of subject, her persona, her treatment of a particular topic, the Power point presentation and most importantly her command on the three languages English Hindi and Marathi made people grip to their seats. Even the technicalities were explained with so much ease and perfection that even a layman would understand. Every topic from Breast cancer, Cervical cancer to everyday women's problem related to Menstrual cycle the new developments in the medical field regarding this were discussed. In-fact she gave the confidence to face and fight it rather than getting scared and depressed and losing the battle even before fighting it. It went on for more than an hour but the guests wanted to have more of it. The next day we woke up to a hundred of What's App messages and calls thanking us for this wonderful show. Every woman from 18 to 80 went back home a little enlightened and a little more aware. She is one Doctor who exudes so much confidence and warmth that I am sure all women including the shy types would shed their inhibition in front of her and come home absolutely satisfied."
"Thank you, for being what you are Dr. Ranjana."
"Words cannot describe what Dr. Ranjana Dhanu means to us: we are ever so thankful to her for safely bringing to this world our most precious ones – Ritam and Ramit. She has been a pillar of strength for us during difficult days, going beyond professional medical advice."
"She is like the elder sister to us: the go-to person when all doors are closed, even in the late hours in the night or the wee hours in the morning. We remember reaching out to her and only her for advice even while we've been out of Mumbai – be it Delhi or Kolkata or even Singapore! And she would patiently hear out and tell us "Don't worry dear…" and we'd really feel better just after the conversation."
"Anyone planning a family is always recommended to Dr. Dhanu – pregnancies for both Ritam and Ramit were complicated and she'd really guided us through the best medical advice – never missing her warm smile.
Thank you Dr. Dhanu: may you brighten many many more homes and be the role-model for young practitioners in your profession and beyond."
Debalina & Family
I am HEMA KAUL a fashion designer from Dubai. DrRanjana has effortlessly delivered my twins. It was a difficult journey for me initially before I came and saw her and after that she took amazing care of me. I have twin boys. It has been the most fulfilling experience to have been under her amazing medical skills. I also know her as a very dear or say the dearest family friend that we have her in our lives. Dr. Ranjana has been the most amazing human being that my family has come across. She is a true woman in every sense a gr8 doctor, an amazing wife, excellent mother, very helpful to her colleagues and a best friend to her loved friends.

Hema Kaul Joshi
November of last year I had to go into surgery for the removal of a bartholin cyst. Women who are familiar with this particular kind of cyst know how sensitive it is to go through the experience of having it surgically removed. However Dr. Ranjana Dhanu and her entire team were nothing but amazing throughout my entire process. Apart from being highly professional there was never a day where they treated me like a "patient". I was cared for as though I was one of her own family and every question I had was warmly answered. My entire experience being her client has been nothing but wonderful. I have always felt extremely comfortable around her because her aura is so comforting. Going into surgery can be a very traumatic and stressful experience for some but Dr. Ranjana and her team are excellent and I trust them 100 percent. My entire process and even post opp was excellent and she genuinely cares for each and every client of hers..
Thanks to her I can continue to live a healthy normal life.

Alyssea Mendonca
"My name is Shekhar Shetty, husband of Geeta Shetty and my whole family is very happy to tell you about Dr. Ranjana V Dhanu who helped us a lot in our difficult times in August 2014 and saved my wife.
I found Dr. Ranjana V. Dhanu is one of the extremely helpful, patients, supportive, courteous and very-very knowledgeable in whatever she was doing and am highly impressed with the quality of treatment and service provided to me. This is perhaps the best medical service we have ever experienced, and will definitely recommend it to my family and friends."

Shekhar Shetty / Geeta Shetty
My association with Dr. Ranjana goes as far back as 2006, and it only got stronger as she was the ob/ gyn who lived my pregnancy with me, a little over a year ago. When I say lived, I mean that in the real sense – Dr. Ranjana has an innate ability to understand her patients, and make their concerns her own. I'll take the liberty to say that she goes beyond being a doctor, and is more of a friend and mentor.
What strikes you immediately is her attention to the tiniest detail – something you definitely want your ob/ gyn to have! Throughout my pregnancy, the care and attention I have received from her made me feel like I was probably the one special person in the world having a baby! Each visit wasn't just about a check up, but also a time I could unwind, share my apprehensions and speak with Dr Ranjana like I would with a parent, or a very trusted confidante! From advice ranging from medical to lifestyle (so important at the time) to hints and tips… Dr Ranjana was always available to help and share, literally 24×7, and has been just a phone call away, whatever be the time of the day (or night).
Like most first time mothers, I too had my fears regarding delivery – and it was Dr Ranjana who said, "Don't worry, I'll have you up and walking in two days' time!" And she did! Her surgical expertise is second to none, and made the entire experience one that was more rewarding than painful.
However, that wasn't the end of her impeccable patient care – post delivery, she has been the one to guide me with seemingly simple (but so important!) baby care tips, that made being a new parent the most amazing experience. Of course, her concern continued with regards to my health, and the regular follow-up visits ensured that I bounced back very quickly, and became the happiest mum on the block!
What's even more wonderful is that she is gracious enough to meet with her patients in a social situation as well – at a party to celebrate the baby's birth, Dr Ranjana made the time to be there, straight from work, to join us at that very special time. It was rather emotional for us, to have her hold our precious little child immediately at the birth, and then again sometime later – she has been the reason for us to celebrate the baby, every single day since!
I could not have hoped for a better experience consulting with Dr Ranjana. Thank you for your professionalism, skill, constant support and kindness, and wish you and your family the very best for the future.
Thanks to Dr Ranjana, I have had such a positive birth experience – and would not hesitate to repeat it, but only if she were to be the ob/ gyn in charge again!

Vaijayanti Albal Sharma
"I had a problem of dermoid cyst on my ovary. The first time i visited Dr. Ranjana Dhanu in 2012, I absolutely had no hope that my ovary can be protected. But as soon as I entered her cabin, the way she greeted us was unforgettable. I have visited almost all doctors in Andhra Pradesh but never came across such a friendly doctor. My parents and I broke into tears while explaining her about my problem and our fear about losing the ovary. But she spoke to us in such an assuring way that we felt so happy about it. I feel that is the most important quality a doctor should possess. She assured that she can protect my ovary. And our confidence levels rose up. She operated me the very next day. And it was a successful one as she assured. I didn't even feel much pain after that. And soon I recovered and i am doing well now. Even after 3 years, she still responds to our messages as soon as possible, which many doctors do not even bother to reply."

Maitreyi Tata
I know this is all me said in other 5 stand reviews but Dr. Dhanu warmth and efficiency as my and also my daughters doctor for the past 10 years has given me immense comfort, thank you Dr. Dhanu for also being there and just a phone call away

Alison Kanuga
My association with Dr. Ranjana goes back a long time, but the confidence as a surgeon and the warmth she exudes as a person are evident even today. While at the beginning it is her professional competence that immediately comes through, Dr. Ranjana has the innate ability to put her patients at ease, and develop a personal rapport with them.
Dr Ranjana brings with her immense experience spanning over 20 years, and is highly qualified and trained. Believing in constant innovation, she regularly updates herself with the latest developments in her areas of expertise and utilizes that knowledge very effectively when it comes to treating her patients. It is her dedication and commitment to her patients as human beings – and not merely as patients – that makes Dr Ranjana stand apart as the prominent surgeon she is today.
Unlike the antiseptic clinical inspection most women have to undergo with your average gynecologist, even routine check-ups with Dr. Ranjana take on a social overtone. She takes care to ensure that as a patient, you are always well-informed. I have had no reservations in recommending Dr. Ranjana, and over the years my belief in her abilities has never proved me wrong.
Taking our association further, she has been a significant contributor to my book 'I'm not stressed', and her input – just like her clinical advice and diagnosis – has been invaluable.
I could not have hoped for a better experience consulting with Dr Ranjana. Thank you for your professionalism, skill, constant support and kindness, and wish you and your family the very best for the future.
Deanne Pandey
" Motherhood is a very precious gift given by nature to a lady. As an individual I was absolutely overwhelmed with the very thought the day when I established of a tiny life taken an entry in my womb. For me it was a precious moment of my life as I was getting to feel this after 5 years of my marriage.
The very person breaking this news to me was non other than Dr. Ranjana Dhanu. A bundle of mix emotions of we as a family were totally lost, never knew how to react / respond. That was the point in time when the sweet Dr. Dhanu rendered her timely help / advice to us and actually helped us shape a very important dream of our life. Me and my entire family is absolutely indebted to Dr. Dhanu for being there and making me and my to be born child feel a very special one."

Sheetal Saurabh Surana
"17 years ago I walked into Dr Ranjana Dhanu's consultation room, not realizing then that I lucked out. Radiating warmth, with a gentle hand, Dr. Ranjana has, over the years, provided appropriate guidance and medical care. She has a knack for reassuring the intellect through thorough explanation (using diagrams, videos on the IPad or simple textual matter) and providing much emotional reassurance as well. When a uterine fibroid was detected that she advised surgical removal of, it was without any hesitation that I underwent the laparoscopic procedure under her care immediately. Her consultation and visits are unhurried. My brother commented during my post-operative period that Dr Ranjana's mere presence used to make me feel better. I'm grateful for the fabulous doctor she is….one whose advice I've taken over the years for many other matters. "

Sonali Gandhi
"We are indeed very fortunate to have Dr. Ranjana Dhanu in our lives. She is a combination of knowledge and kindness, and is an epitome of medical care. Just seeing her on any given day takes away half the pain and woes. She goes an extra mile to ensure comfort where most would end with an advice.
Dear Doc, thank you for always being there for us! We love you. "

Anjum & Prakhar Rastogi
" We have had nothing but positive, confident and generous experiences with Dr. Ranjana Dhanu. She provides a safe, understanding, sympathetic and positive practice. She is the first doctor we have ever had that concentrates on wellness of mind, body and soul. That's why we call her the GOD MOTHER OF OUR SON AVYANSH".

Aaditya & Aradhana Singh
"If any one has the need for both a doctor who is skilled and personal then I would highly recommend Dr. Ranjana Dhanu. She is not only skilled and professional but one who cares about you as an individual. My experience with the Dr has been quite fruitful as her contribution in me turning pregnant has been significant."

Vinti Rathi
I consulted Dr. Dhanu in 2010 when I was expecting my first daughter. Her warmth and patience to answer my infinite queries and address the anxieties is what makes her stand apart. Pregnancy is a unique medical situation where you are a patient but you are not sick and the whole world has abundant advice for you, which can be over-whelming. Dr. Dhanu understood it so well and her constant counseling on managing my work, relationships, food, looks, vacations and even choice of restaurants! Made me feel cared for. She involved my husband in the process so beautifully that my husband did not want to miss a single consultation. And the best part came after the delivery where she counseled my husband and myself in detail on not just baby care and recovery, but also on how to deal with the whole new world of parenting. I am truly grateful to her for making it such an enjoyable experience.


Swati Shah
"I Rashida  residing in London  was suffering from PCOS and found difficult to conceive, but after having treatment from Dr.  Ranjana Dhanu i was able to conceive thrice and blessed with three children's. After first child we moved to London there we tried everything in NHS for second child for 5 years but no success. I came Mumbai to see Dr. Ranjana Dhanu and again she treated me successfully. Recently I had my third baby with her help.

                I believe that she has all the knowledge and experience to handle complicated cases as a doctor and always suggest what is necessary for treatment .As a person I see her as a very kind and helpful all the time. She was always there to reply my queries made from London on phone or email without fail. Under her treatment I always felt secure and safe because of her high professional and ethical values. I suggested and always suggest her name to all my friends and relatives for treatment"
Rashida Gadiya
"Absolutely no stretch marks n a painless delivery ….I visited Dr.  Dhanu n had decided dat how many ever babies I have ….nobody else but her would do my deliveries ….she connects wid u at every stage n makes sure ur very comfortable ……n definitely d best at her job …..Love u doc"

Sureina
"I have 2 children that mean's 2 pregnancies, 2 deliveries and twice the torture of losing weight. (That being the hardest of all. Hehe…..)  On a serious note the journey of motherhood is the best ever and the beginning to it was made blissful, easy and memorable only coz of Dr. Ranjana Dhanu. Every visit was an experience in its own. The promptness with which Dr. replies to smses or even calls back when she realizes her patients need her is something very rare amongst the doctors nowadays.
Little bit of complication that freaked me out as an expecting mother, was taken care of with so much ease, as if it was nothing.  I'm pretty sure I'm done with my complete family but you and only you Dr. Dhanu would b a reason for me to even consider another child."

Sonia Anand
Pregnancy is the most overwhelming and exciting time in a woman's life.
Dr Ranjana Dhanu is one of the finest Gynecologists in the country. Her expertise & subject matter knowledge makes her a doctor par excellence, and the wonderful person that she is makes one feel secure & very well taken care of. She has been such a pillar of strength and positivity to my husband and I during our pregnancy. We instinctively knew we are in safe hands. Dr Dhanu truly understands you & your physical and emotional needs as an expectant mother and is reachable at anytime of the day. Her patient's physical & emotional well-being is her top priority. What I love about her the most is, her traditional approach along with her knowledge of the most advanced medical innovations. It's almost like your mom's healing touch with the best in medication to ensure Mummy & Baby are doing just perfect. Dr Dhanu truly has been such a delight managed our excitement paranoia anxiety so well towards the fag end of the pregnancy that I often wonder this journey would have been incomplete without her. Thank you so much Doctor, we could not have done this without you. We owe it to you.

Sinclair & Priyanka Gomes
"I could not conceive even after several efforts in our 7 years of married life. We have been looking for various treatments and failed in the results, a friend suggest Dr. Ranjana Dhanu And We decided to undergo treatment at Lilavati hospital within 6 months of treatment we got immediate results and were very Happy. As per Dr. Ranjana Dhanu's prescription we continued our treatment and medication and on 3rd April we got positive result.
There is still a lot of care which has to be taken and the doctor guides me well at every stage which includes, diet daily regime. We are thankful that we met Dr. Ranjana Dhanu."

Laxmi Kadam
"I am writing this letter as a personal reference for Dr. Ranjana Dhanu who is not only a family doctor but also a family friend.
I known Dr. Ranjana Dhanu for over 15 years & have found to be a very professional helpful & a courteous person, diagnosis is perfect & so is her treatment.
I am sure she will be an asset to any hospital /organization in which she will be working.
I trust the above information provided will be of assistance and will be happy to provide further information if required. "

Sandip Runwal
"Dr Ranjana Dhanu was a God sent for my husband and I. We owe her a lot! Thanks to her expertise and her dedication towards her patients we are the proud parents of the most courageous and healthy 26.3 week born baby who has just turned 2!
While going through a difficult pregnancy with frequent visits to the hospital she was my rock! She would talk to me about the pregnancy and the baby in a manner that i could make informed decisions and also would be completely relaxed with the situations as they came up. It was like having my mom at the hospital and she instinctively knew just how to calm me down and hold my hand just when I needed it the most..
Unlike other doctors I always felt at home with her and she has always treated us like family!
She is an amazing person and a wonderful doctor who delivered our 1kg baby and the three of us are blessed to have her in our lives!
Love you doc!."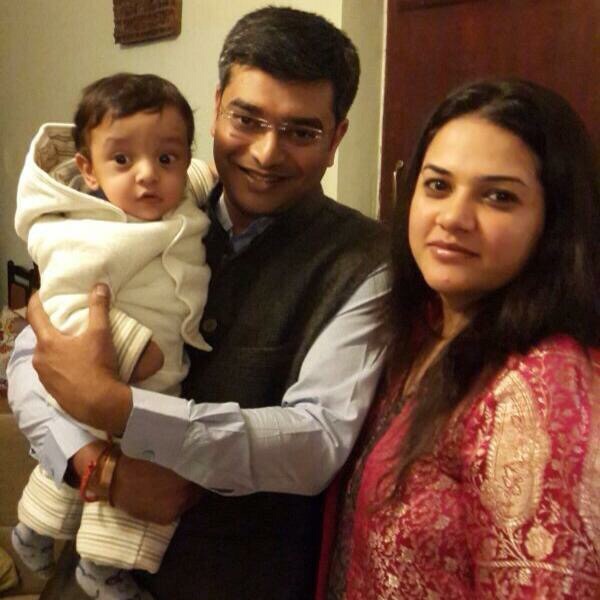 Abhishek & Pooja Wable
"All my 3 girls were delivered by the skillful hands of Dr Ranjana Dhanu.
My first being a c section, I was convinced the trend would follow, however, much to our pleasant surprise, our 2nd was a normal! Our 3rd was a c section again!
Having experienced both kind of deliveries, I can vouch for the fact that the pre and post care was very closely monitored and that motivated me to have more babies. It all seemed a breeze.
I want to thank Dr. Ranjana for bringing my darling daughters into this world with such finesse!!
Thank you doc.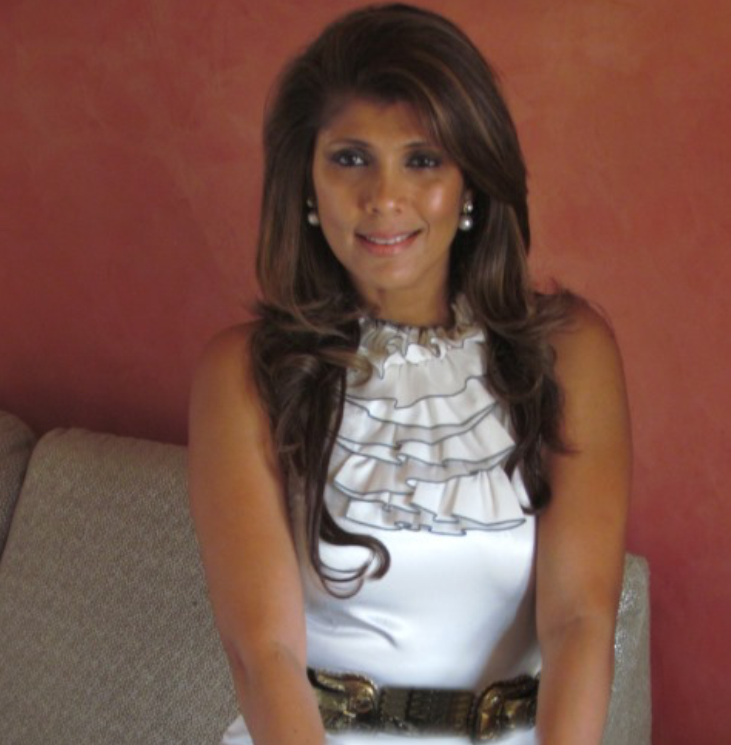 Priya bhimani
"We met Dr. Ranjana Dhanu in 2014, when other doctors had concluded that our struggle to conceive was on account of being overweight (at 5ft 4in and 70 kgs). At our first appointment with Dr Dhanu, she listened to us patiently and with her professional and unbiased opinion asked us to do certain tests, results of which identified an ovarian cyst, which all other doctors had missed.

A quick and extremely efficient surgery later, we were ready to plan pregnancy. Dr. Dhanu was confident that it would be within 6 months that I would come back to her with a positive pregnancy test and it took us 5 🙂
Dr. Dhanu's biggest virtue is that she patiently listens and answers every possible query till we are at ease – extremely rare to find these days where with most doctors you wait for 2 hours to have 5 mins with an assistant and 2 mins with doctors. She is very clear in her thought process and line of treatment and kept us informed of each possible situation that could come up. She is willingly available on call 24×7 as a doctor and a friend, for even the smallest of queries.
She has been with us at every step of our pregnancy, advising us with realistic and practical information.
She's like a God sent gift to us and is responsible for having our precious baby boy "Ayaan" in our life.
We thank and love her.
Neel, Niketa & Ayaan Thakar:-)
"Dr Ranjana is a phrnomenal doctor and was responsible for bringing both our Kids Antara and Nikhil safely to this world. She went out of her way as a doctor, guide, friend and councellor through the entire 9 months and beyond. We have a lot to be thankful for from Dr Dhanu."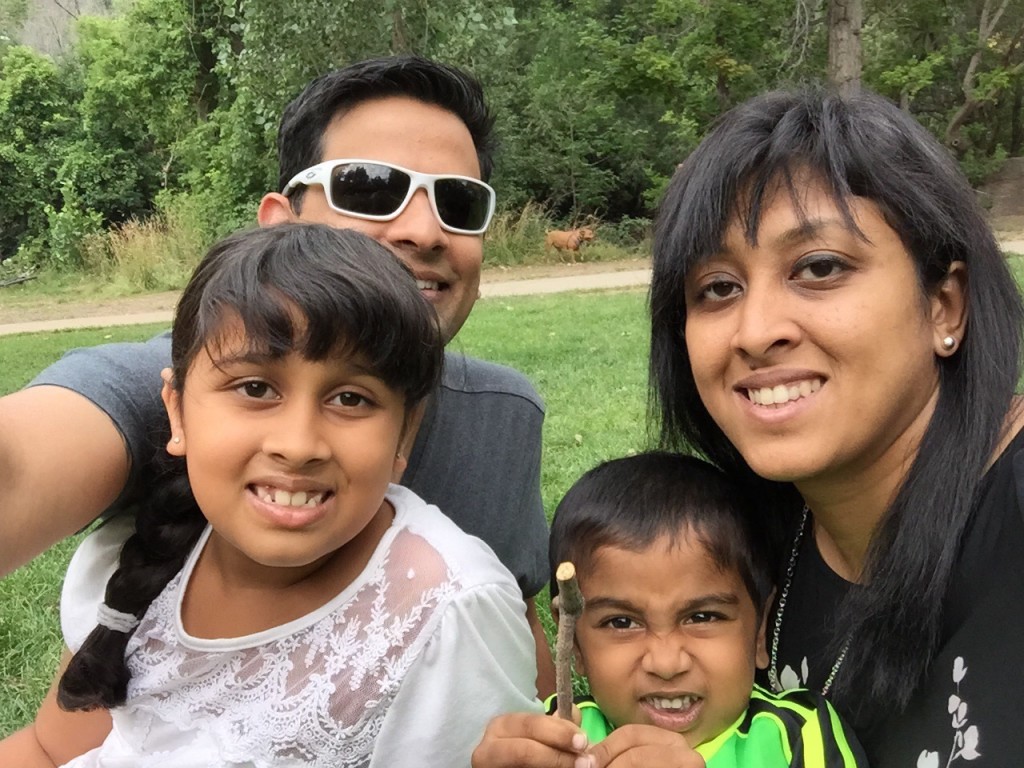 Maya Hari
"I've had the most amazing experience with Dr.Ranjana Dhanu since the day I met her.I was suffering from PCOD and had skin problems.Due to this I faced lots of problem while getting a perfect match for me.Then I came to know about Dr.Dhanu.I still remember her amazing words"You Trust me,I will solve all your problems".Then I was under treatment for 2 years and at the same time she was guiding me for skin treatment.She also encouraged me to go to the dietcian and gave reference.She supported me financially as well."
" Dr.Dhanu not only helped me like gynac but a friend,a guide,well wisher and a hope.She understands her patients and help them as much as possible.She came in my life and changed my life completely.She told me not to compromise in life and strictly no compromise in marriage.Just because of Dr.Dhanu I got all happiness in my life which I never thought.Now after marriage I am pursuing M.E(Masters in Engineering) and stood second in my college.She always boosted my confidence. Finally after completion of first year,me and my husband were planning for baby.After concerning Dr.Dhanu I was relaxed coz I was afraid of PCOD.She gave me assurance that I will conceive very easily.Exactly after three months I conceived.She is genius and very intelligent doctor.She is a perfect doctor,never dominating,always calm,encouraging and always available for her patients under any circumstances."
""She is a doctor who is true with her promises and sincere in her work.She is my angel"Love you Dr.Dhanu……."
"The Root of all goodness lies in the soil of appreciation for goodness"
"Dear Dr Ranjana,
Very often when i knell and bow in prayer, i bring to mind the many people that have touched my life and i give praise and thanks to God and always the image of your gentle smiling face , fills my memory bank and I ask the Good Lord to continue to bless your gentle hands and your caring heart, so that many patients much like me will have been blessed by meeting you."
"When I came to meet you , I was a veteran of many surgeries and hospital and doctor visits. I was naturally apprehensive and more than a little tense but from our very first interaction , your calm demeanour, quiet confidence and reassuring words put me at ease and I knew i was in safe hands."
"My mind often waifs back to the operation and its complications and yet with a professional skill and dedication, you helped complete the rather complex surgery successful and then gently nursed me back to health."
"Despite your hectic schedule daily, you never failed to show up daily to check on my well being and more importantly to reassure me and my family that all will be well and trust me those visits were better than any other medication.
In my subsequent visits I always looked forward to our interaction. More than a patient – Doctor relationship it was as if I was one of your elder family members. Your warmth, honesty and sound advice has always been the perfect tonic for my troubled mind."
"I was deeply touched when you waived your professional fees , a first in my long medical history. To this date this act of generosity and kindness is etched deep in my soul. I will always be indebted to you for your kindness of act and generosity of spirit."
"Dr Ranjana , you are truly a wonderful doctor , A woman of substance and more than just a medical practitioner."
"I will always recommend anyone to you in your area of specialization.
Of this I am certain that many like me will have been touched from the heart and we will always bow our heads in prayers that God gives you Good health and happiness always and may your goodness bless those that are touched by your caring hands..
Warm Regards."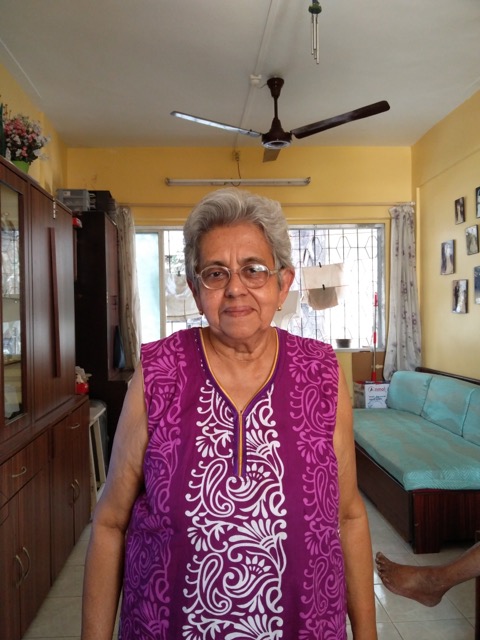 Violet Dmello
"I met her for the first time in 2011 when she visited our Schlumberger Office to create awareness on women's health issues. The tall attractive doctor immediately cast an impression because of her poise, confidence and the compassion she exuded effortlessly. But as fate would have it, it was not until 2014 that I consulted her. I was suffering from PCOD and nothing seemed to work and we had almost given up hope of ever conceiving naturally. But my first visit to her allayed all our doubts and we knew that we have come to the right person as she assured me that PCOD can be dealt effectively. And sure enough I conceived immediately after the treatment that too naturally!!! This is miracle was possible only because of Dr. Dhanu. Her constant follow up, guidance & right medication makes one feel that you are in safe hands. Not only is a skilled and thorough professional but one big thing about her is she is available to guide you whenever you need her which is very rare nowadays. Both me & my husband are indebted to her for helping us realize our long cherished dream."
"It gives me immense pleasure to write a testimonial for Dr Ranjana since I will always be indebted to her help for delivering little bundles of joy to myself and also to my extended family. Our association with Dr Ranjana goes back many years before I was married, her tremendous experience and skills came to My aunts rescue when she delivered a baby boy at the age of 40! We were very apprehensive since a delivery at this age is considered risky, though all our fears were laid to rest under Dr Ranjana' s care. The delivery was performed without any complications. Thus began a long and continuing association with the doctor, followed by two beautiful & healthy nephews that came to this world under her care. Needless to say even when I got married and moved to Chhattisgarh, the good doctor was our first and only choice when I became pregnant with my first child in 2006. My husband is a IAS officer and his job profile entails frequent travel and re-locations however with his support we consulted Dr Ranjana through the phone and the occasional visits to Mumbai for periodic check-ups. I delivered my first child (a healthy baby girl) in Mumbai under her care. The stork came calling once again after two and half years and once again our only port of call for a Gynaecologist was Dr Ranjana, this time I was blessed with a healthy baby boy. I have also recommended her to my friend and the feedback from her was as good I expected . I can vouch for her skills & experience that she brings to the mother / gynaec relationship and surely recommend her as one of the best Gynaecologist that we've known!"
"26th December 2014 is when I met Dr Ranjana Dhanu. I walked into her office with huge concern and stress which apparently reflected on my face. To begin with I already had a bad experience and came to meet her for a second opinion. This second opinion turned out to be a blessing in disguise. The pregnancy had complications but she caught it right away by symptoms that were so minor which were overlooked by others. Dr Ranjana Dhanu was there for us every time we had a concern or question. And we have never been left feeling that something might not go right! That is a priceless feeling! I thank Dr Ranjana Dhanu for giving my family a chance to be complete and seeing us through on every step of the way."
"Here are the top ten reasons I choose Dr Ranjana Dhanu to be my doctor:
She…
1. is wonderful
2. is a good listener
3. is very thorough
4. explains the process and ensures you understand
5. found the symptoms
6. relates
7. understands
8. is efficient
9. cares
10. is compassionate
11. is positive
12. is pleasant
Oops..that's twelve. You get the idea."
"My first meeting with Dr. Ranjana Dhanu was a month before in my very crucial period of life. I was diagnosis with ovarian cyst and was admitted in a hospital for laparoscopic surgery @ Kandivali. As per the doctor over there, it was a minor surgery which converted to a disaster for me and my family. During the surgery after giving anesthesia something went wrong and the doctors didn't operate. The surgery was post-ponded and the doctors never gave the reason for that."
"After that we were wondering to whom we should consult as we have gone through very bitter experiences of the doctors. And then one of my family friend referred Dr Ranjana Dhanu's name. She personally took us to her. In our first meeting with Dr Dhanu on September 13th 2016, after consulting with her I and my husband realize that we are at right place and in safer hands. She informed us about each and every part of my problem and gave proper guidance to go further."
"I remember her words when she told "Don't worry you are my baby now & you will be alright" and hence she has proved that. My part of treatment started the day itself, she personally make sure that all MRI, blood test has been taken that day so that we don't have to bother to come daily as I was not in a position to travel. After all the formalities, I was admitted @ HINDUJA HEALTH CARE HOSPITAL (KHAR WEST) and operated by Dr Dhanu for laparoscopic bilateral endometriotic excision with Mirena insertion. Before surgery she assured with Anaesthetist Dr. Garach and fixed the appointment with him, so that I should be stress free as I was very scared to undergo again with the anesthesia. Dr. Garach understand my problem and was very generous to me and assured that nothing will be wrong and they will take care of it. I must say all the doctors, nurses, staff @ Hinduja Healthcare are very professional and caring each & every patient with full of their dedication."
"Dr. Ranjana Dhanu's way of treatment makes her different from every other doctors. She makes sure that her patients should not suffer with any kind of difficulties. After Surgery also she was consulting to make sure with the Physician Dr. Sheilja Singh about my diet and health. Even when Dr. Dhanu is out of town she never fails to revert back to her patient queries. Her grounded and caring nature, her personality, and her behaviour with the patient makes the place in her patient's heart."
"I fully recommend Dr. Ranjana Dhanu as she is 'THE BEST AND TOP GYNAECOLOGIST' in our country. It is her dedication and commitment to her patients as human beings – and not merely as patients."
"Thank you so much doctor for being my doctor and giving me the best treatment, support and advice in my critical period and giving me once again a new life."
"Just three weeks after my delivery I found slight hardness in my left breast. When I consulted my gynaec he said it's normal, keep on feeding the baby and remove excess milk. But the very next day I came to know it's not normal and my breast was swollen. Then my younger sister took me to Dr. Ranjana Dhanu. When I met her I came to know I had breast abscess. For next two days I was on medication. But on my next visit to her I was still in pain, then she decided that i should be admitted and next day she would operate me for the same. My family and me were worried. Also in the same week my younger sister was getting married. For one moment I thought I won't be able to attend her wedding. But Dr. Dhanu assured my mom that I would be out of pain and within 2 days I would be at home. Same thing happened I was relieved by that pain and was able to attend the wedding. I am very thankful to Dr. Ranjana Dhanu. She has always been just a call away when ever I needed her. Thank you doctor."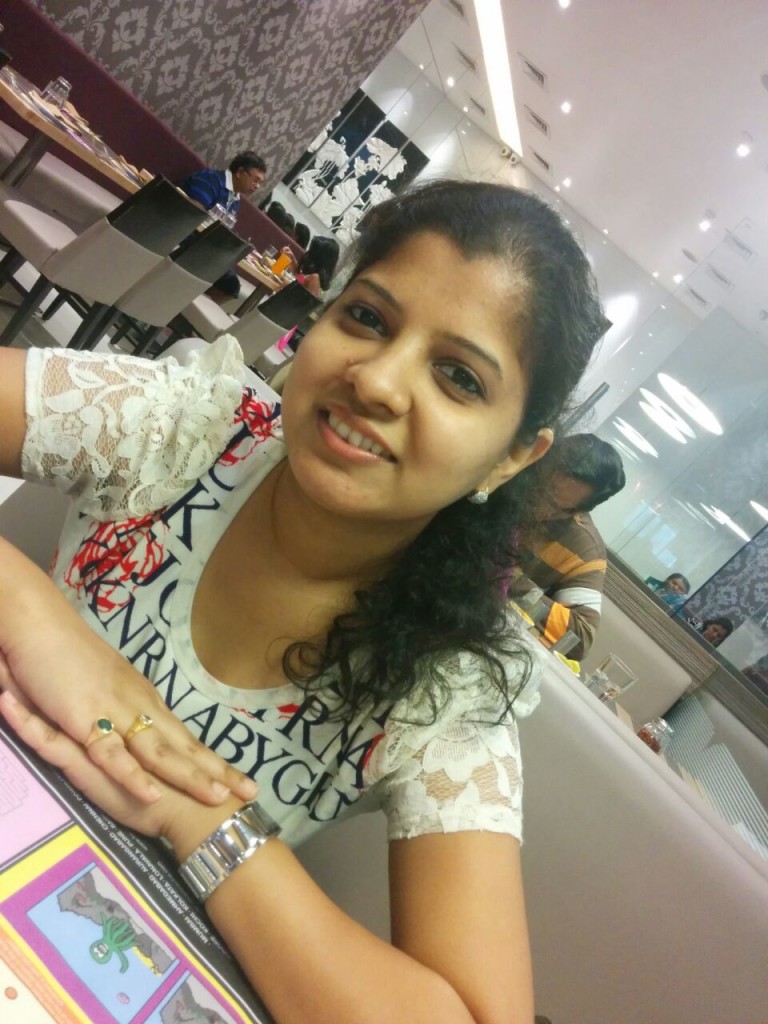 Deepti Sawant