Dr. Ranjana Dhanu is a surgeon specialized in laparoscopic and robotic surgery, currently practicing at prominent hospitals in Mumbai, including Hinduja Healthcare, Asian Heart Hospital, Breach Candy Hospital, Surya Childcare and Sunridges Hospital. One of the most renowned Minimal Access Surgeons in the country, she has been a consultant for the past 23 years.
She completed her degree from the King Edward Memorial Hospital (KEM) and Seth GS Medical College, Mumbai, Dr. Dhanu completed her Masters from the Nawrosjee Wadia Maternity Hospital, Mumbai in the year 1991. During her training at KEM and Wadia Hospital she got the wonderful opportunity to get trained under professionals and she was exposed to stalwarts in the field such Dr. Shirish Dafftary, Dr. V. N. Purandare, Dr. Adi Dastoor, Dr. Shirish Seth, and Dr. Mehroo Hansotia, who have been sources of inspiration for her.
Her fervor for endoscopy initiated with her invitation as Family Planning Officer at the Nowrosjee Wadia Hospital in the year 1991, wherein she had the opportunity to around 200 doctors from several Public Health Centers in India on tubal ligations by minimal access. Furthermore, she has also handled the highest number of cases pertaining to pelvic floor defects and Stress Urinary Incontinence in women.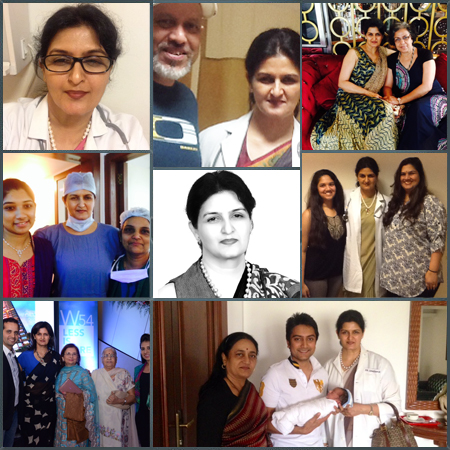 Subsequently, by 1996, she was appointed as Honorary Consultant in Gynaecology & Obstetrics most major corporate hospitals in Mumbai. She continued to pursue her interest in endoscopic surgery by attending several training courses both in India and overseas. Dr. Paul P.G., a leading gynaecological endoscopic surgeon in the country, has played a great role in refining her skills in endoscopy.
From the year 2000, Dr. Dhanu has never gave up on her dreams. Despite of all the difficulties she stood still and played the best role of her life. And as we all know hard work pays off and it worked the same in her case now she is recognized globally as Minimal Access Surgeon. She has been invited on numerous occasions to UK and several countries in South East Asia as an  international faculty. In addition to endoscopy, she has catered to several patients for high risk obstetrics. In fact, she is the only obstetrician in the country who has to her credit having delivered the grandchildren of the most prominent politicians across party lines, as well as having attended to the obstetric needs of the families of prominent business houses, bureaucrats, celebrities and corporates.
While continuing to establish herself as a spectacular surgeon, she has been trained and certified in robotic surgery in the year 2013, to sharpen her proficiency and offer advance level of service to patients. In addition to her professionalism, the humane touch and empathetic demeanour of Dr Ranjana Dhanu has always been a highlight of her reciprocation with patients across all strata of society.
SOCIAL SERVICE:
Indian women have always been an epitome of beauty, strength, and intelligence. Dr Dhanu is one of those Indian women who is also best known for her efforts and her devotion towards the society into her respective field. She has always been conscientious with regards to her duty to society. She believes in giving back to the community, providing medical service tirelessly.
To this end, she holds on an ongoing basis, patient education programmes for the Khoja community across jamatkhanas throughout Mumbai. She has also contributed towards women and children's health by conducting health camps at several churches in Mumbai and its satellite suburbs. She is also part of health education programmes foradolescents at different schools in Mumbai, spreading awareness about menstrual hygiene, contraception, and HPV prophylaxis.
In addition to educating families on health care and personal hygiene, Dr Dhanu also regularly donates to night schools, to ensure that the dreams of those less fortunate are fulfilled, by providing towards their education.
PERSONAL LIFE:
Dr Ranjana Dhanu is the daughter of the Late Dr. Y. S. Khedkar, an eminent ENT surgeon. With her sibling's also respected doctors in their chosen specializations, Dr Dhanu allege her father as continuing to be a great source of inspiration. She spent her childhood in Aurangabad and completed her schooling at the Holy Cross Convent there. Later, she has been a resident of Mumbai.
Happily married to Dr. Vilas R. Dhanu, himself an eminent Gynecologist and Minimal Access Surgeon, with whom she works as a team, she is honored mother to Abhishek and Aditi, both who are presently pursuing their business studies in Singapore.
She is very conscious about her own health and fitness, and makes it a point – in spite of her busy schedule- to fit in an hour for yoga and workouts at least four times a week.
OTHER CONTRIBUTIONS
She has her recognition being invited as faculty at:
Live training workshops by Johnson & Johnson at their Ethicon Training Centre, Mumbai.
GROS conferences held by Dr. Shailesh Puntambekar annually at the Galaxy Care Centre, Pune.
Has trained several resident doctors in the last 20 years with hands on minimal access surgery.
Contributed to live debates on Times Now (News Hour on Health Education).
She also contributes on a regular basis to several publications in national and international journals. In the past, highlighted in the time magazine & has contributed several health articles to media. She has penned chapters in books on stress management and beauty authored by Deanne Pandey and Rashmi Shetty.
PROJECTS IN PROGRESS
Dr. Ranjana Dhanu's parents have had a major impact on her life. So she decided to do something for them. Soon to be commissioned in the memory of her late father, Dr. Y. S. Khedkar, is a 200-bed hospital in Aurangabad. Bearing fully in mind the dire need for tertiary healthcare in the interiors of Maharashtra and as a part of fulfilling her father's dream, this project is being beautifully crafted in tandem with her siblings and husband.
In addition to her ongoing contribution to society, Dr Dhanu will continue to associate with charitable foundations, to address healthcare issues faced by women the world over, and in doing so, ensure that her inherent talent, painstakingly honed over the years, helps her achieve her dream of making quality women's healthcare a reality.
Rated Top 3 Gynaecologist in Mumbai by threebestrated.in